Yesterday, some idiot on YouTube offered this as the reason why everyone should believe him that the thumbs forward grip on a revolver is bad:
I worked in a gunshop for 15 years and I've seen it all
You can imagine how impressed I was, and I immediately rescinded everything that I've learned from shooting tens of thousands of rounds out of revolvers over the last four years. Actually I didn't, and instead I made this meme: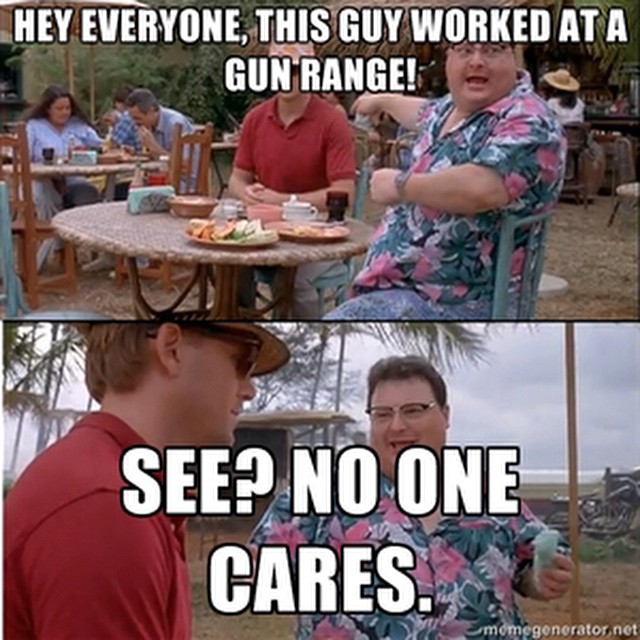 I posted it on Facebook, and what I originally intended as a snarky shot at the sort of bloviating silverback experts you tend to find in gunstores turned into an actual, semi-thoughtful discussion about how frequently experience/knowledge aren't really connected, or even required, for someone to be skillful. A long time ago, a friend of mine who happens to be a world class USPSA GM mentioned that until recently, he didn't know the technical difference between centerfire and rimfire. Sure, he knew that rimfire = .22 and it was smaller, recoiled less, and was less reliable than a 9mm; but he couldn't have told you the difference between centerfire ignition and rimfire ignition. While the vast majority of internet gun users would scoff at that, take a moment and ask yourself this: would him knowing that piece of technical knowledge help him win more matches? The answer if we're honest is "no, no it won't" so why would he waste memory space on what is essentially useless technical trivia?
In the same conversation on FB, Tam made the excellent point that you could be a hardcore 11B Slayer of our Nation's Foes and still not really have any idea what's going on inside your issued Thunderstick beyond "line up sights, make bad man go away" followed by "clean until shiny." Actually, there's a whole separate post in that alone about how basically everything the military teaches about weapons maintenance is wrong and outdated, but I don't want to enrage the entire internet today. Back to the point (to the point no fakin, cookin MCs like a pound of a bacon) of knowledge being disconnected from skill. It is quite possible for someone to spend 15, 25, 30 years owning guns, and knowing everything about how they work down to the tiniest technical detail, and still be a shitty shooter who doesn't really know how to run them.
The reverse is also true, that it's possible to be able to run a gun hard and fast without really knowing what's going on inside your gun other than "pull trigger make explosion bullet go zoom." To my mind, being a shooter first and a writer second, I find this mindset preferable. Because these people are focused on the actual art of shooting, not endlessly preening over their gear and how meticulously clean their rifles that never get shot are. I prefer the company of shooters to gun owners, because I can talk to shooters on equal terms about skill development and training, even if they're better than me or vice versa. There's common ground.
I don't really have any common ground with gun owners, other than "I like guns."
So what's the point, you're asking? I guess the point is that before you dive into a conversation, you should try to be aware of what you don't know. If you've worked a gun range for 15 years and owned a lot of guns, don't go telling a guy who shoots thousands of rounds a year out of revolvers in competition how to hold his f***ing gun. If you're an experienced competition shooter with no military or LE experience, don't go telling a career LAPD officer how to handle a traffic stop that goes sideways. I'm not going to go all LAV on your and say "stay in your lane"; instead I want to suggest that we stop using internet encounters to prove how awesome we are and score imaginary Internet Arguing Points, but instead try to learn from people whose experiences and knowledge may be outside our own.
Unless you're talking to me of course, in which case I'm right, you're dumb, and shut up. 😉