I really like a good plastic holster for competition and OWB carry. But for IWB carry? Not so much. If the holster is going inside my waistband, leather is better. Now, when we're talking about leather holsters, I'm not talking about cheap, floppy 25 dollar leather holsters. If you're going to use a leather holster for IWB, it needs to be well made from quality leather by a reputable company. Also, a lot of the points in this article don't apply if you're carrying a flat gun, because it has fewer protuberances than a spinny-middle gun.
I've been carrying a full size Ruger GP100 in this Galco Summer Comfort for a while now. When I'm not carrying that, I've been rolling with an SP101 in a Blade-Tech kydex IWB holster. While the SP101 in the smaller Blade-Tech is easier to conceal, the full size GP100 in the leather Galco is more comfortable for all day wear, and it's because of the way the holsters are made.
Kydex holsters are molded for that specific gun; if you look at a kydex revolver holster such as the one pictured below, you'll notice that the cylinder bulge is molded into the holster. Depending on how the holster's made and your carry position, this cylinder bulge can cause a number of issues for comfort or concealment. On the leather Galco holster, the cylinder is positioned above the belt line, which makes the holster slightly top heavy and more difficult to conceal, but extremely comfortable for all day wear.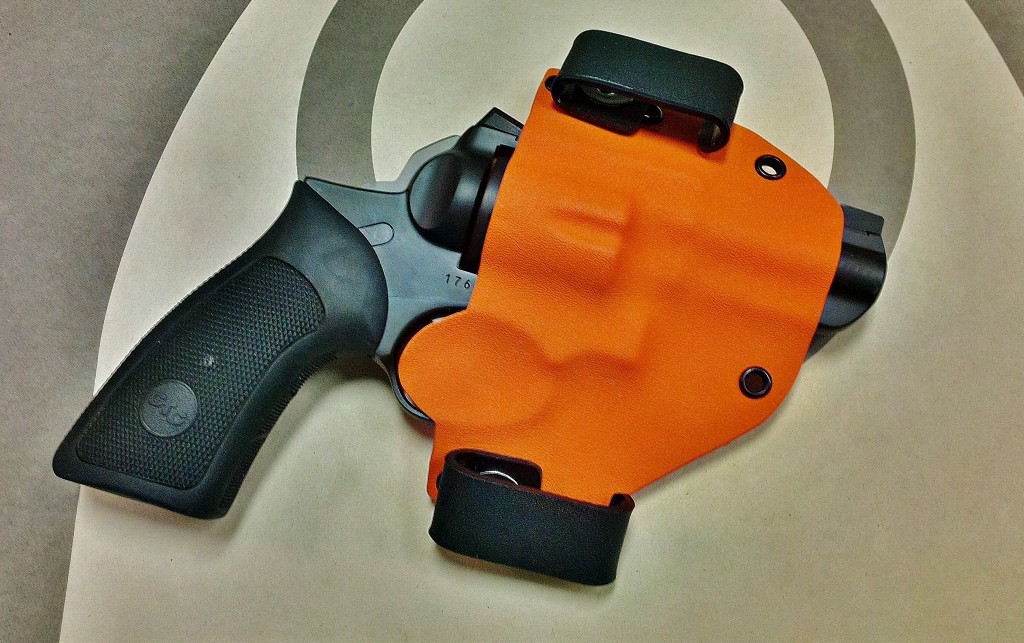 If the cylinder bulge on a kydex holster is positioned directly under the belt line, it can act as a lever that will push the muzzle end of the holster hard into your leg, regardless of your carry position. I've forsaken AIWB and gone back to traditional strong-side, behind the hip, IWB carry. In this carry position, every kydex revolver holster I've used pushes the muzzle into my fanny/leg area, resulting in a bruise forming after about 4 hours of wear. Needless to say, I'm not into wearing holsters that do that.
If the cylinder rides below the belt line, the gun will have maximum concealability, but then the cylinder bulge itself can act as a pretty awful pressure point, plus the grip on the gun will be dangerously close to the belt line, which will make establishing a full firing grip difficult. All of these experiences with kydex revolver holsters leave me at the conclusion that for concealed carry, leather is better. Now I say that with a sample size of exactly one leather IWB holster, the Galco Summer Comfort. But it's also the first time I've bought a holster for a CCW gun and thought "man I got this right on the first try." My sample size for kydex IWB has been a lot larger, and I've honestly not found a great kydex IWB solution for the round gun. I have a lot of Kydex holsters that I really, really like for OWB carry and competition, just not for IWB revolver carry.