Wow what a terrible movie that was. I have to confess, I was somewhat interested in the fictional universe presented by the backstory of The Purge, set in a future America where one night a year, all crime is legal. This usually centers around murdering folk, and it's generally suggested that the people usually targeted for murder are lower class/poor folk. Get rid of those undesirables, and whatnot. Anyway the movie is total garbage, and if you want to see everything wrong with The Purge, check out CinemaSins.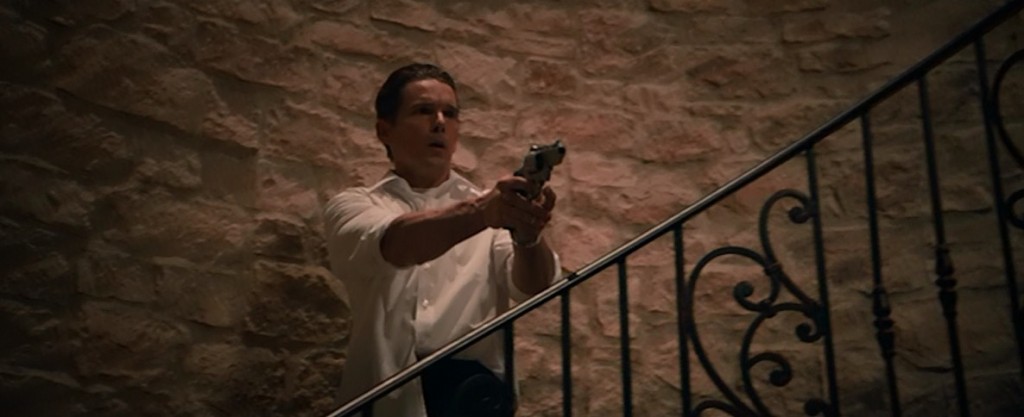 Back to the movie itself, it's awful to watch. The only good thing about the movie is Lena Headey, and the scene where Ethan Hawke shoots his teenage daughter's boyfriend, because who hasn't wanted to do that, right? (I do not have teenage daughters) But the movie itself is sort of useful to gun nuts, because it presents the total breakdown in a home defense strategy and several really good examples of "how to get everyone killed in a home invasion." So instead of reviewing the movie, we're going to take a look at the tactical mistakes made by the main characters in the film.
1. They let the family scatter after the lockdown
In the film, Hawke's family has this banging home-security system with big steel doors and shutters that makes their house relatively safe. However, after they go into lockdown, they're lulled into a false sense of security by the big steel doors, and the entire family of four disperses over the large house, which allows the youngest child to temporarily lower their defenses, leading to the movie's central conflict.
The fix for this is simple, and common sense: if you're under imminent threat, you get everyone in a central, easily defended location. I would consider the house to be under imminent threat for the entire 12 hours of the Purge, so before the event started, everyone would be ushered into the safe-room/bunker, which would be nicely equipped with cots, video games, food, weapons, and security monitors, and we'd all stay there. For 12 hours. Spending 12 hours with your family is a small price to pay for not getting murdered.
2. Don't divide your forces
But of course they don't do that, and everything goes TU, so they have to fight to defend themselves, at which point Ethan Hawke gives his trembling, scared wife a gun and says "go find our daughter" while he goes off to kill badguys in their house.
He gets killed and Lena Headey gets captured. THIS IS MY SHOCKED FACE. If you have to go retrieve a child in that situation, either go alone and leave someone to defend the safe-room, or take as much force with you. Don't split up and send two people out into the house by themselves to confront an unknown number of intruders. Come one.
3. Don't trust mechanical systems
The biggest point of the film is that their security system is defeated; and the badguys gain easy entry after that. I like security systems, they're very handy for warning that there's an intruder in the house and alerting the cops that you need help if 911 isn't available. But they're not going to save your life. No ADT system in the world ever shot a determined invader in the face, which is why the most important part of a real home security system is having a smart plan.
That's where the main characters in the film really failed, and the most important lesson of all. They believed "this can't happen to us" so when the moment came where it did happen, there was a lot of lost strategic time due to panic. There was no plan, because they figured they were safe behind their steel doors. Locks are great, secure buildings are great, but don't let them lull you into a false sense of security. Sometimes bad things happen to good people. Not just home invasions, but fires, natural disasters, and all kinds of things like that.
Have a plan. Stick to your plan.
And if you're in a horror movie, DON'T SPLIT UP.