Jan Morgan, who I'd never heard of until this morning, apparently owns a gun range where she's decided to ban all Muslims. I wish that some part of that sentence was a joke, but apparently this person decided to declare her range a "muslim free zone" and then post about it on her blog that no one reads.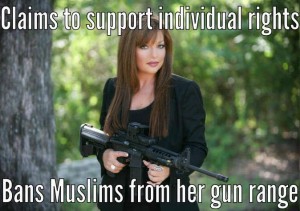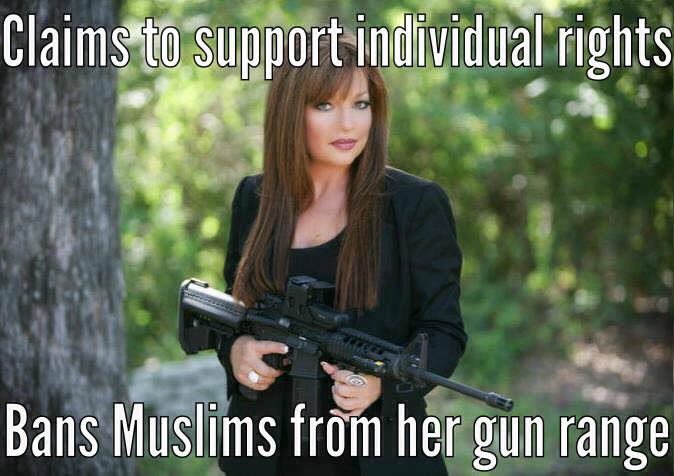 It would be easy to dismiss Jan as a desperate attention seeker, someone who's just trying to drum up a national media frenzy and get more eyeballs on her blog with this stunt, and honestly that's probably the most appropriate reaction. We should, as a community, see something like this and say "ho-hum, another dreary bigot using a cheap PR stunt" – but the problem is that this is more than that. Instead, what Jan Morgan's bigoted blog post and business decision have done is reinforce every single negative media stereotype that exists about gun owners. I can imagine the HuffPo getting a hold of this and gleefully driving all the attention they can to it: "SEE? We told you that gun owners are bigoted rednecks who hate people!" Thanks for feeding the negative stereotypes, Jan. We really appreciate that.
But maybe Jan's not a bigot. Maybe she's just a no talent ass-clown; a gun bunny in her 40s with no real shooting, writing, or commentary skills trying a desperate stunt to get attention. If that's the case, her tragic, bigoted post becomes no less offensive, but sad in a way. You start to wonder if this is the eventual fate of all gun bunnies as they hit their later years. But even if that is the case, what part of you thinks that this is a good line to put on the internet:
Not all muslims are terrorists, but almost all terrorists in the world right now are muslim. Since you can't determine by visual assessment, which ones will kill you and which ones will not, I am going to go with the line of thought that ANY HUMAN BEING who would either knowingly or unknowingly support a "religion" that commands the murder of all people who refuse to submit or convert to that religion, is not someone I want to know or do business with.
Here's an important point: yes, there are terrorists. There are quite a few terrorists who are followers of this or that sect of radical Islam. Those are bad people. But the 2nd Amendment isn't for those people, the 2nd Amendment is for Americans. All Americans. Regardless of race, religion, sex, or creed. Last time I checked, the important text of the 2nd Amendment didn't say "the right of the people to keep and bear arms, shall not be infringed – unless you're black, Muslim, or gay."
To me, that's what the most frustrating thing about this. Yes, it reinforces negative stereotypes about my people; yes it's bigoted; and yes it's likely a desperate attempt for relevance from someone that no one's ever heard of. But most importantly, and most frustratingly, it absolutely misses the point of what the 2nd Amendment, and what this entire country is all about. This is the United States of America, and while we're not as good at the whole "freedom" thing as we used to be, we're still the best in the world. People in this country are absolutely free to pray to whichever god they wish, and those same people are free to own and use firearms for self-defense, recreation, hunting, or any other lawful purpose. The 2nd Amendment is a civil right the same as the 1st Amendment. What Jan Morgan is doing is denying an entire group of people, an entire group of Americans, access to a fundamental civil right, simply because she doesn't like the god they pray to and the holy book they read. That misses the entire point of everything America is supposed to be about.
For someone who claims to support individual rights, Jan sure seems to miss the concept of what the Constitution is actually there for. Stay off my side, Jan Morgan.