Here are the current leaders for each division at the 2014 IDPA Nationals: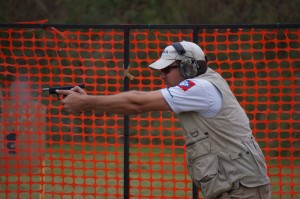 SSP: Bob Vogel (duh)
ESP: Mike Seeklander
CDP: Matt Sims
ESR: Robert Briggs
SSR: Rhett Crutchfield
Of those scores, I suspect that Bob's will hold up just fine, as there's no one left to shoot SSP that can really offer a challenge to him. ESP has a fairly deep field this year, with remaining shooters that include DM Brandon Wright and USPSA Grandmaster Nils Jonasson. I suspect Nils will be the first shooter in some time to be able to give Bob a run for the fastest overall, a title which doesn't formally exist…but all the top shooters care about.
In revolver divisions, the lone master shooter ESR begins today. With Jerry Miculek attending the Trijicon World Shoot, and having one this match like a hundred times already, ESR will crown it's first new Distinguished Master since the invention of the title. Similarly, SSR will also crown a new DM after the next two days of shooting. It will either be current leader, Rhett Crutchfield (who has a great name, by the way) or some peasant blogger from South Dakota named Caleb.
On that note, I'm going to go check my gear.