I am going to cut right to the chase here: now that I've had the time to practice with it, use it, and really work it, I can say that the Garrett Industries Silent Thunder OWB is the best revolver holster I've ever owned.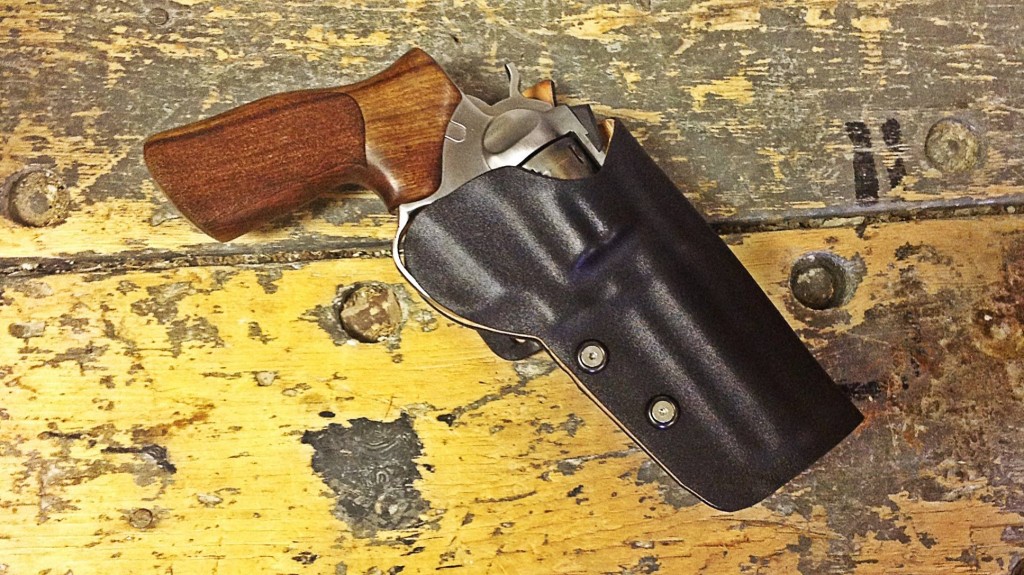 The holster itself is an interesting idea: take a kydex holster and line it with leather. The name "Silent thunder" comes because your gun doesn't make any of those tell-tale clicks and clunks that you get drawing from a kydex holster. So you get the draw and re-holstering feel of a leather rig with the durability of a kydex holster. Not a bad deal.
There's nothing on the interior of the holster to snag your draw, and the gun comes out clean. There's also nothing to impede your ability to holster, so it's easy to put the away when you're done. Retention is acceptable for action shooting activities, and can be tightened down if you're going to use it for a carry holster. It is an OWB holster, and for a four inch revolver the only realistic carry method is going to be under a vest or jacket. But its footprint is still smaller than equivalent holsters from Safariland and Blade-Tech, which are enormous and basically impossible to conceal without massive printing.
The holster is priced right – 85.00-100ish dollars, depending on options selected. They also make IWB holsters, one of which we have in the office for a seldom carried Kahr PM9. It's a great holster as well. My experience with the Silent Thunder OWB has made me curious about their AIWB offering, having just ordered a Wiley Clapp SP101 for T&E, I'd like to get a good rig to carry that in. The order process with Garrett is pretty simple: pick the holster you want, type in the gun type and info, pay them. You can even checkout with PayPal, which I love. And yes, if you're wondering, I actually paid for this holster with money. It's pretty great, and I'd recommend it to anyone looking for a range/competition holster.