Here is a terrible story: a man at an shelter dog rescue event stabbed a pit bull to death. There are so many tidbits of this story that we could discuss today, from the way the man's language about pit bulls 100% reflects the deranged language of the anti-gun crowd about rifles ('f***ing pit bull, why are you even allowed to have these dogs – direct quote from the man), we could comment about how some people are just wrong in the head, but instead I want to talk about acting in defense of a pet.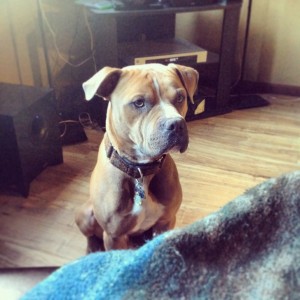 The first thing to bear in mind is the question of "is it legal to use force to defend a pet?" Pets are, in the eyes of the law, property. They're not people, they don't enjoy the same rights as humans, regardless of how much a part of your family they become. In South Dakota, it's generally legal to use appropriate force to defend your property, and deadly force is good to go so long as you're in a situation where deadly force would be legally justified. I know that's a bit of a tautology, but that's how the law reads.
However, a better question is this, and something's that stuck with me for a long time. When I was taking classes from the excellent InSights Training Center in Washington, they would regularly talk about having the ability to articulate that you were in fear for your life when you used deadly force. There are situations where fear for your life is obvious and easily articulated: "He had a gun, he was threaten to kill me if I didn't do what he said" and some where it's a little more difficult.
Back then to the pit bull story. Let's change it up a little bit. Instead of being in public at an adoption event, let's say you're out walking your dog. Someone shouts "if you bring that pit bull near me I'm going to stab it." You, being a smart person, move in the opposite direction of the shouter. Then you come round a corner, and there he is. He attacks your dog with a knife, stabbing it. Here is the question I'd like to see answered in comments: Could you in that situation reasonably articulate that you were in fear for your life? Let me know yes/no and why you feel that way.