My quest for the perfect revolver holster continues. You'll remember last year before Indoor Nationals, I talked about making sure my Blade-Tech holster met the IDPA rules for concealment, specifically the dowel rule. If you remember that post, the Blade-Tech holster in its stock configuration failed the dowel test for two reasons: additional offset due to the cylinder bulge, and I'm not 300 pounds. I was able to make it legal by swapping out the BT belt loops on the back of the holster in favor of a Safariland paddle. To be honest, I sort of assumed that putting a Safariland paddle on a Blade-Tech holster would open a portal into the nether, but I was wrong.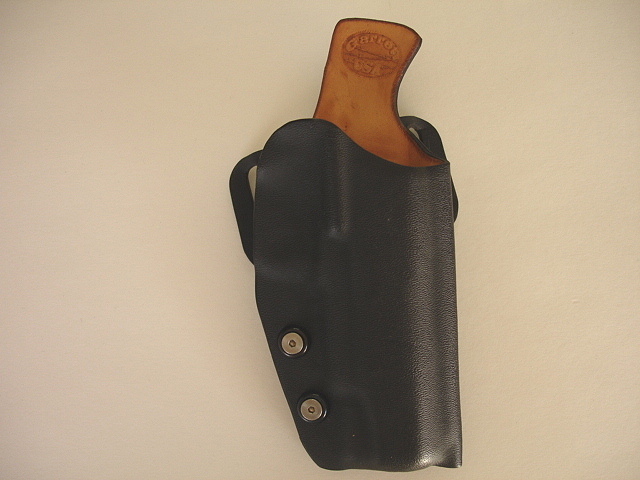 I happened to be browsing Modern Service Weapons and I saw their review of the Garrett Industries Silent Thunder OWB, which happened to be holding a GP100 in their photos. The Silent Thunder is not a holster that's new to me, Shelley has used one to carry her Kahr PM9 for years now. It's a great holster – a kydex outer shell that's lined with leather. I had no idea they made one for the GP100, so I immediately ponied up some cash and ordered one. It should arrive tomorrow.
You know it's serious when a gunwriter voluntarily pays for something! I kid, of course. But in all seriousness, I've liked the IWB versions of the Silent Thunder quite a bit, so I'm hoping this will work out for my needs.