If you follow me on Instagram (and you totally should if you booze, cars, guns, and pictures of my dog) you might have seen this photo and caption: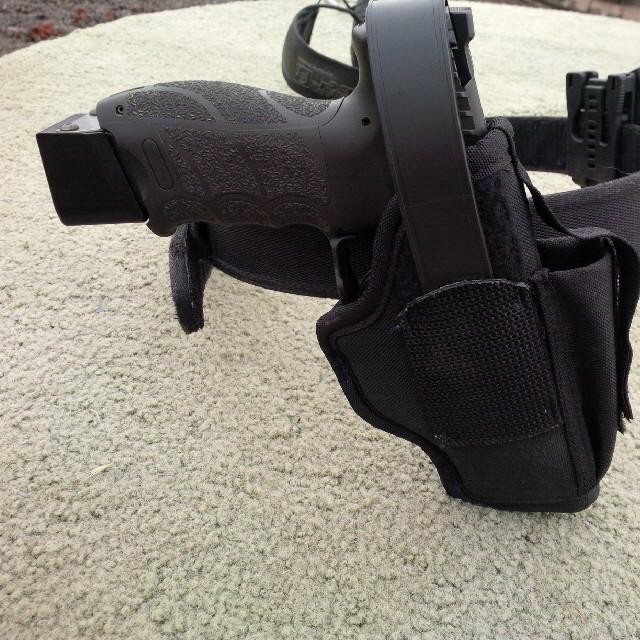 I've never been more ashamed of a holster than I am of this. I'm so sorry, HK for putting your excellent VP9 in this holster. I needed a rig that fit the gun with a Crimson Trace Railmaster.
So, that happened. The backstory is simple: I needed a holster that did two things, and those things were "retained the gun during vigorous movement" and "fit the VP9 when it had a Railmaster laser installed." And I needed them on relatively short notice, because my original plan for handguns at M3GI fell through. I used the VP9 because it has a nice, big 20 round extended magazine, but then I was stuck. I needed a holster. Getting a proper kydex holster from Blade-Tech or Comp-Tac would take something I didn't have: time. Time was not on my side.
The holster itself was a nylon generic "large autos" holster from Blackhawk. I chose the Blackhawk over the various similar designs, because the Blackhawk is made in the USA, so at least my 25 bucks was going to support American labor. At the actual match, the holster did everything I needed it to do: it retained the gun nicely, it provided a consistent presentation when attached to a CR Speed belt, and fit the VP with laser attached. So it's hard for me to knock it too much.
But at the same time, it wasn't ideal. A Safariland ALS or even a SERPA would be preferable to the cludgy thumbbreak release, and as you can see from the photo it didn't cover the entire trigger guard, so debris could theoretically get down inside the holster and trigger guard.
However, immediacy has a certain value to it. So when I needed a functional holster in a hurry to perform a specific task…the $25 Blackhawk was there. All the custom kydex in the world won't do you a lick of good if you can't get it when you need it. That being said, I have ordered a proper holster for the VP9 laser combo.