Getting guns ready for Crimson Trace M3GI is always an interesting prospect. Ideally, I'd be able to set everything up with a light and a laser, but that's not always feasible. Some guns lack the rail space for both, or in the case of my VP9 it's impossible to find a holster that fits. However, sometimes I get creative with mounts: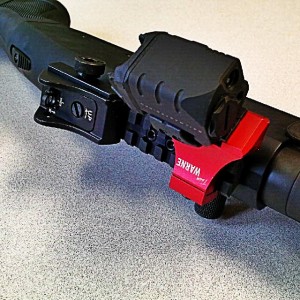 That's a Crimson Trace Railmaster Pro mounted upside down on a Warne 45 degree off-set mount. If it looks derpy to you, don't feel bad. It looks derpy to me. The problem with the 930 SPX is that there's no forward rail space on the handguard, so I couldn't slap the light/laser combo on further down the gun. I obviously couldn't mount it on the top of the rail without obstructing the sights. I have a different mount for a traditional flashlight that goes on the magazine tube…but the tube is too thick for the mount.
So out comes the Warne 45 mount, and on goes the Railmaster. Now, I should note that I haven't shot it yet, and I've certainly not used it in low/no light. So I don't know how well it's actually going to work. One of the things that happens a lot is a light set-up seems perfectly reasonable during the day, but then when you use it at night you suddenly get a ton of light bounce and can't see anything. That's a very real concern with this set-up.
I'll find out for sure once I get to Oregon next week! Here are the guns and light/laser combos the team will be running at M3GI:
Surefire Wrist Lights
HK VP9 with Crimson Trace Red Railmaster laser
S&W M&P with red Lasergrip
MuttAR-15 with Railmaster Pro Green, Leupold 1×4 optic
Troy Defense Lamb Carbine with Railmaster Pro Green, Burris 332 optic
Mossberg 930 SPX with extended tube and Railmaster Pro
I'll also bring along my trusty Winchester 1300 as a back-up gun for the SPX should something go wrong, but I don't plan on using it in the match. This really is the only 3-gun match I shoot each year, and it's one of the best events in the shooting sports. Crimson Trace gets great range staff, sets up great stages, and generally runs an absolutely top notch event.