As I was going for a run through on the lovely Sioux Falls river trail the other day, I had a random encounter with a bum. From 5 yards away and down-wind, I could smell the booze on him. He made aggressive eye contact with me as I ran past, so I immediately went into condition black, drew my Bren Ten from Hill People Gear Chest bag, and blasted him out of his socks.
No, of course not. I just kept running. I also would never wear one of those chest bags, because it's somehow even dorkier than wearing a fanny pack. Seriously, have you seen these? It's like a giant, ugly fanny pack that you wear across your chest. It should come with a sticker that says "virginity protector."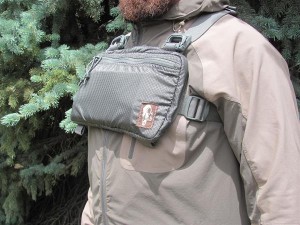 But back to the actual incident, I kept running past the drunken bum. My usual route is an out-and-back, so I return along the same path and I see the guy getting aggressive with three older dudes sitting on a park bench. As I get closer, the aggressive stuff turns into shoving, which escalates into a kind of slapfight/shoving/maybe punching match. I didn't stick around to see the results, because I have no desire to get involved in someone else's fight. My escape and evasion plan of "keep running" worked pretty well, though.
Now, while this kind of a humorous article, the topic of self-defense while running is a serious one. My standard plan is "since I'm running, I think I'll just run faster." I don't ever run with headphones in, because I actually like to experience my environment when I'm out on the trails. I've never really found an acceptable carry solution for running – belly bands move around too much, fanny packs are fanny packs, and I've made my feelings about that chest bag pretty plain (I should note, I think it's actually a great product, it's just a little too dorky to wear while running. Hiking around in the woods? Sure). But my self-defense plan for when I'm running is pretty simple: I don't run at night, and I don't run in shady places. Yes, I know that no man knows the day or hour when the balloon will go up while they see the elephant, but I reckon I can minimize my chances by not going to places where that sort of thing happens. It's why I run in the nice park, and not in Van Epps Park, aka Stabbing Time Station.
That's the most effective self-defense tool of them all. Don't go to stupid places at stupid times, and even if you're in a nice place, keep your head up. Stay alert. Don't be afraid to cross the street to get away from shady mofos.