When it comes to lady shooters Randi Rogers' name can sometimes get lost, and frankly, I don't know why. What amazes me and impresses me about Randi is that she is headed toward titles above and beyond "High Lady."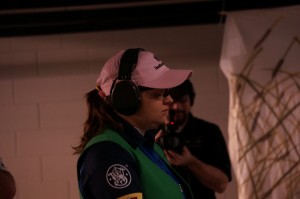 Randi is climbing closer and closer to "High Overall" in just about every practical pistol sport available. All you have to do is look at her accomplishments from 2013:
IDPA Costa Rica National Championships High Lady
IDPA Indoor National Championships High Lady, 2nd Master SSP
USPSA TX State Open Championships High Lady Production, 7th Overall
NRA Bianchi Cup Ladies Production Champion, 3rd Place Overall Production Division, Winner of Event 4: Falling Plates
USPSA Double Tap Ladies Production Champion
IDPA Carolina Cup High Lady, 2nd SSP Master, 5th Overall
SASS End of Trail Ladies Top 16 Shoot-Off Winner, 20th Overall
ProAm Ladies Limited Champion
Steel Challenge World Championship Ladies Production Champion
Area 8 Ladies Limited Champion, 11th Overall Limited Division
From randirogersshooting.com.
We have 2nd Master SSP at the IDPA Indoor National Championships, we have 3rd Overall Production and an event win at Bianchi Cup. While she hasn't snagged a GM card in USPSA, she's shooting Master class which is higher than a lot of the other ladies out there.
It's been a quiet 2014 for Randi, possibly as she transitions into her new roll shooting on Team Smith & Wesson. Hopefully we'll be seeing more big things from Randi moving forward. When it comes to women in the practical pistol sports, she's definitely one to keep your eye on.