Today's the last day I'll be OC'ing as a primary means of carry. Two weeks was enough. I didn't have any run-ins with the cops, no one tried to talk to me on the street, none of the negative consequences I anticipated occurred. Yet, I'm still exhausted, and the reason I'm exhausted is because of Open Carry people.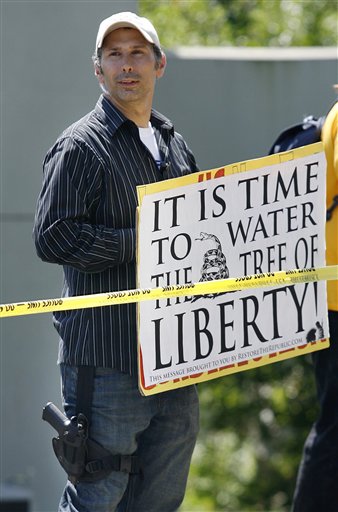 As I've been writing these OC pieces, I've asked myself hard questions about Open Carry. It's practicality as a primary means of defensive carry, it's effectiveness as activism, that sort of thing. The problem is when I do ask those questions, a lot of the responses I get are from OC people who say that I'm a shill for Eric Holder, I hate gun rights, blah blah blah. It's exhausting. The thing is I actually have enjoyed OC, because I'm kind of lazy. I don't want to dress around the gun, I want to carry a full size defensive pistol and not worry about it. That's kind of nice, and it's super comfortable. To avoid repeating myself though, here are my definitive thoughts on Open Carry, copied from our FB page:
You know what's funny? I'm not against open carry. I am against f***wits using open carry inappropriately and getting our rights restricted. For example, the idiots in California. Or the idiots in Texas. If you want to open carry, fine, just carry your gun. But don't be a halfwit about it. Don't do it to get attention, don't go on "open carry walks" just carry your f***ing gun and stop trying to "educate" the public and stop being s***heads to cops.
That's really it. Do I think OC is the best choice for self-defense? No. The only thing I really can't stand is when I people OCing in garbage holsters. That bothers me because it's dangerous. But if I see a dude OCing in a proper retention holster, just going about his business? I don't care even a little bit.
I look at the OC situation, and what I see are lots of good, normal folk who use OC as a regular tool for self-defense. Then I see their voice drowned out by the actions of worthless, attention seeking, thumb sucking, fatass losers who were probably denied their mother's breast when nursing and grew up into mentally deficient man-children who can only achieve some measure of validation through negative attention.
So you know what? I'll still talk about OC in the future when it's relevant, if it's in the news, or even to discuss as a legitimate option to concealed carry. But the worst thing about Open Carry that I've seen isn't the actions of most Open Carriers, but the actions of a few, vocal members of the group. People whose actions make us all look bad.
Because if there's only thing that anyone takes away from these articles, let it be this: No matter what you might want to believe, when you Open Carry you are acting as a de facto representative for all gun owners. Your actions and conduct influence the public's perception of us all, and what you do can absolutely affect the state of gun rights in the country. If you don't believe me, try to OC a gun into Starbucks or Chipotle some time.