What comes to mind when we talk about women and guns? Empowerment, strength, confidence. Well ladies, I'm here to tell you something: Just because you shoot, it doesn't mean you always have to feel empowered, strong, and confident. In fact, it's perfectly acceptable to be a little terrified the first time you go to the range. Even after that you might cry, and that's okay.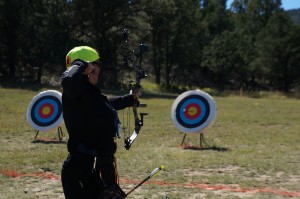 It can be very intimidating for some and very frustrating for others – this idea that because we are "gun women" we always have be all strong and ferocious and empowered. You know what? Sometimes my shotgun breaks and I fudge a bunch of reloads and I want to cry.
As new or experienced shooters we all have the right to feel frustrated sometimes, to feel like we aren't performing to our own standards, or to feel whatever way is making you sad or frustrated – it's okay. Just don't stop. Never stop. That's where the strength comes from. It doesn't come from a one second draw or fast splits, it comes from pushing yourself constantly and showing yourself you can do what you didn't think you could.
If you've been meaning to get out on the range but have been intimidated by the idea that all the women out there are strong and flawless and always confident, go. Because the secret is, we're not. We rely on each other to help us stay strong, we work hard to make what we do seem effortless, and we air confidence because we have shown ourselves what we can do.
Stop worrying about being empowered and go shoot.