I saw a post from Jim Wilson this morning on the Bookface, and I had to slow-clap for the absolute perfection of it:
If you can't see the FB embed for some reason, it says this: "High-capacity pistol magazines are only important if you plan to miss a lot. And you can't miss fast enough to win." You can see now why I appreciated it, because if you accept the general premise of most online communication is to spark "engagement" that post is going to work really well for that. Well played.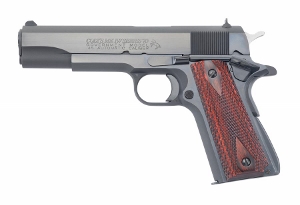 But let's talk about the actual content of that post for a second. Many of us, myself included, carry wee little guns like a j-frame or an M&P Shield simply because we find it either too inconvenient (in my case) or too difficult (in other cases) to carry a proper full size service pistol. To further examine the issue of defensive pistol capacity, we have to look at probabilities. Here is a simple list, in order from most likely to least likely of defensive situations the average person (not a cop) is likely to encounter.
Will never need to draw their gun in anger – most likely
Will need to draw their gun to defend themselves from a single assailant, no shots fired.
Needs to draw their gun to defend themselves from a single assailant, shots fired.
Needs to defend themselves against multiple assailants.
Needs to defend against multiple, determined, armed assailants in a "proper" gunfight – least likely.
I'll take a moment of rare honesty: the vast majority of Americans will get by simply by playing the averages and will likely live their entire lives in peace and not need a gun. That's awesome.
But here's where it gets complicated. Because if you remove the tools of self-defense from the above probabilities, the odds that any of those situations other than number 1 end up going well for you becomes nearly zip. So we carry our guns, not because we're paranoid, but for the same reason we keep fire extinguishers in our homes. I generally hate the cutesy phrase "better to have it and not need it" but it is actually applicable. If someone never draws their gun in self-defense their whole life, they have an undefeated gunfight record, the best way possible.
Now that we've established why we should in fact be carrying a gun, let's get back to the question of capacity. Caleb's Rules of Gunfighting that I just made up for this post state:
Have a gun
Having a gun in a proper service caliber is better than a gun in a mouse caliber
There is no effective difference in terminal ballistics between modern service caliber loadings with proper, modern JHP
9mm is easier to shoot than .40 or .45
So carry a 9, dumbass
I don't particularly plan to miss a lot if I ever do need to use a gun in self defense. In fact, I don't plan on missing a lot when I shoot matches. But I still like having extra bullets in the gun, because sometimes things go pear shaped. If you're in one of those situations where there are multiple attackers, or maybe just one guy that doesn't realize he should die immediately because you shot him with a .45, having more bullets is never a bad thing. It gives you options. I like having options.
Once you get past the 1970s stopping power arguments and accept that we live in a magical age of pistol bullet equality, it's no longer a question of capacity but rather a question of "what can you get the most hits with, the fastest." The answer is almost universally a modern, polymer, service in 9mm. Let me know your thoughts in the comments.