Competition season is starting to ramp up again, for Gun Nuts that means the World Action Pistol Championship and the Bianchi Cup are right around the corner, for everyone in the shooting sports it means more travel is imminent.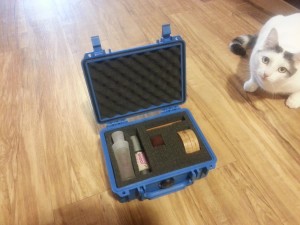 I am nothing if not an over-packer, and with more and more 3-Gun being added to my schedule that becomes a problem very fast. I am not sure if you've ever seen a 100 pound girl dragging 120 pounds of luggage, guns and ammunition through an airport, but I will tell you that it's a much more entertaining sight for the people watching than her.
The longer I do this "travel to matches" thing, the easier it is for me to know what I need to bring or not. It's a matter of acquainting myself with the matches, the range, and the area. For example, I know at National level IDPA matches I should bring something nice, but not overly formal, to wear to the awards ceremony, jeans and a t-shirt will do for any USPSA awards ceremony,  and at the Bianchi Cup it's time to break out the Gucci… Or the credit card.
I know that when I go to Rock Castle in Kentucky I should pack a sundress, because there will be a chance to relax at the range after the match with a nice glass of wine. There will also be bourbon tasting at some point during the week, so it's best to plan for that too.
But how do you learn all this without the experience of going to the matches? There are several steps I've started to take before going to any match:
1. Look up the range.
Knowing the terrain will give you a lot of information on how to dress for the match itself. For example, you're going to run into more mud at the Universal Shooting Academy in Frostproof, FL than you are at the U.S. Shooting Academy in Tulsa, OK. Part of that is the weather, part of it is the range terrain, and all of it can have an effect on what shoes you decide to pack. (My running shoes were green before going to Steel Challenge last year in Frostproof, since then I've been complimented regularly on their unique shade of brown.)
2. Look up the match.
Not that you wouldn't already have the match website bookmarked, but a lot of times there will be a note if formal dress is required at any event. Personally, I believe in dressing nice for any awards ceremony, but my regular award ceremony standards of dressing nice wouldn't make the cut at Bianchi Cup.
3. Research the surrounding area.
I try not to go to a match and just go to the match. It seems a waste and a shame, and the surrounding area is an important part of any narrative. For example, at the USCA Nationals in New Smyrna Beach, FL last year I had many opportunities to meander down the beach (my D.Q. helped), at IDPA Indoor Nationals this year we went to look at the Springfield Armory Museum, and Rockcastle, KY, home of the Rockcastle Shooting Center where the World Action Pistol Championship is being held this year, is just an hour from Lexington.
On top of the "fun" aspect, it can really affect your packing. I know I'm more likely to go somewhere nice to eat in Vegas than Frostproof, and I probably won't need an extra set of heels in Tulsa, but a pair of flip-flops will serve me well off-range if I'm headed to the Hogue Range in SLO.
4. Watch the weather intently.
I about froze a Media Day during SHOT Show 2013. Why? Because I was going to Vegas (and in the middle of a move) so I didn't check the weather. It's not supposed to get cold enough in Vegas to freeze out someone from South Dakota! (Free Bonus Tip: Don't ever assume a place can't get cold enough to freeze out someone from South Dakota.)
Do your research, don't be like me.