For immediate release – March 31st, 2014
Noted arms maker Sturm, Ruger & Co has announced their acquisition of Florida based "firearms" manufacturer Kel-Tec CNC, Inc. Ruger is known for their quality firearms that have a well earned reputation for reliability and durability.
"We've been taking Kel-Tec's designs and actually turning them into reliable, working firearms for years now" said Michael O. Fifer, Ruger's CEO. "We just figured, why not make it official, so we bought them out with some pocket change. Look at this way, now you'll be able to get a twin-magazine bullpup shotgun that actually works and ships in a timely fashion."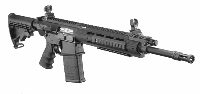 Full details of the sale have not yet been announced, however industry insiders have leaked that the majority of Kel-Tec's production staff will be laid off. Certain key former employees of Kel-Tec will be chained to a drafting table in a basement dungeon under Ruger's Prescott, AZ facility where they will design guns keeping with the Kel-Tec ethos. Kel-Tec's production facility in Florida and all its machinery have been sold to a manufacturer of toy guns, who was quoted as saying "[I]t's perfect, it's like they were already making toy guns here, I don't have to change a thing."
Ruger has announced plans to eliminate some guns from the Kel-Tec lineup due to redundancies with their own line, but will ramp up production on specific products in the former Kel-Tec lineup that are currently difficult or impossible to get. The list of cancelled product lines includes the following guns:
PMR-30
SU-16 (all makes and models)
RFB
PF-9
P-3AT
Ruger will continue production of the .32 ACP Kel-Tec pistol and the Sub-2000 carbine, a leaked report from inside Ruger listed the reason as "they suck the least." The desirable Kel-Tec Shotgun (KSG) will be renamed the Ruger Shotgun (RSG) and will come with a trigger that actually resets properly, and controls that can be accessed with normal human hands during the firing cycle. It will also be available next week in reasonable quantities at an affordable price.