Yesterday, when the news of California State Senator Leland Yee's arrest for corruption broke, many in the pro-gun community to include myself experienced quite a bit of schadenfreude at the news. An anti-gun, anti-video game, and generally anti-freedom advocate arrested for corruption? Awesome. But the real story is so insane it's like the news ripped a page out of Unintended Consequences. Because soon to be former Senator Yee wasn't just hooked up, he was hooked up for being part of an international gun-smuggling ring. It's glorious. The SF Gate has the affidavit uploaded, and it's pretty incredible.
Of course, the memes have already springing up around this, and so far the best is this one: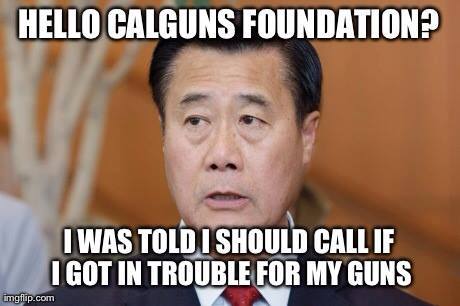 I just cannot express how hilarious this all is. I mean, think about it. An anti-gun politician tries to ban guns, and then gets caught smuggling guns to Islamic terrorists and Asian gangs. I couldn't make stuff like this up and make it believable. It's fantastic. And of course, the MSM has completely backpaged the story, although to their credit the LA Times actually ran a pretty good piece on it.
In closing, this is basically a pro-gun Christmas. It couldn't get any better if we were writing it from a script.