Lighten up, Francis. It's great to train and take your self defense seriously, but I can't imagine how exhausting it must be to make your entire lifestyle revolve around always being ready for a fight that probably isn't going to happen.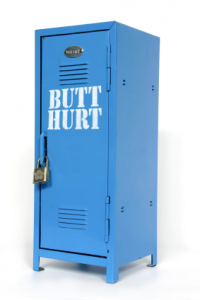 A good friend of mine recently said "Not every gun has to be for jumping out of an airplane with a knife in your teeth" which is pretty good advice right there. It's all about balance. I'll pull a parallel example from the world of fitness. It is a perfectly acceptable and laudable goal to run a marathon or bench four plates or have a perfect six pack. It's also a perfectly reasonable goal to work out just to be healthier but still have pizza and beer, because pizza and beer is delicious. The guy who wants to run a 5k under 21 minutes and trains obssesively for that is going to have a different definition of "success" than the guy who wants to run a 5k under 35 minutes because it's good for him.
So hey. Maybe you don't have to make your entire life about being ready for the fight. Maybe you could take up fishing, or playing video games or something. All of these are acceptable hobbies and uses of your time. Or, if you really are serious about the whole Sheepdoge (Such awareness) mentality, that's cool too. Just…don't force your lifestyle choices on other people. Because not everyone wants to press 4 plates or do 100 pushups. Some people just want to be healthier and fitter.
The dangerous slippery slope of this argument is when it's used to justify not training at all. Of course we don't want that, because carrying a gun is actually serious business, and if you carry a gun to defend your life, you should probably know how to use it reasonably well. So get some training, and shoot some matches. But if you can only make it to one class a year and shoot a match every other month, that doesn't make you a terrible person. Those of us that do this professionally (shoot/train/etc) sometimes get tunnel vision on how much we want to shoot and train, and then we go telling everyone else that you should be shooting 1,000 rounds a month and traveling to matches. If that doesn't blow you skirt up, don't worry about it.
Get some training. Learn to use your gun well. But don't stress out if you don't find yourself constantly obsessing about your EDC or scanning for threats in the mall. Just enjoy that ice cream cone, because ice cream is delicious. The maybe tomorrow don't eat ice cream and do some dry fire, and go for a run.