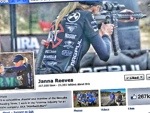 This past weekend marked the beginning of the 3 Gun Nation's 2014 Pro Series Tour. In Owasso Oklahoma the best of the best met and kicked off a competition that will continue until early 2015. Janna Reeves, the newest member of the Noveske 3 Gun Team, is one of 12 women who make up the women's division. Having won the Qualifier back in February, Ms. Reeves went into this weekend with high expectations of herself. Unfortunately, she came back to her new Georgia home, less than than thrilled with her performance.
Janna recently relocated from the Midwest to the southeast to shoot with her Noveske team mates and help establish new marketing offices for the ammunition company she represents through social media, Freedom Munitions. What I discovered during our conversation about the Pro Series Event is that Janna is not all that far from the Beginner-to-3 Gun status that I proclaim so proudly. I found it inspiring to find that while shooting next to lady competitors with 13 years under their belts, Janna has only been at it for about six months. Further, she only picked up a firearm for the first time three plus years ago. (This is eerily similar to my story.)
But Janna isn't one to let a less-than-stellar-performance get her down. She shared with me how she looks for the possitive. "It's a learning experience, because in the end, 3 Gun is a blast." I just loved this mindset and plan to adopt it… win or lose, shooting 3 Gun is supposed to be fun. Then again, some of the details of the Pro Series Tour (other than the shooting) seem too good to miss. Aside from watching and learning from the best shooters and the biggest names, 3 Gun Nation has helicopter DRONES! Janna says they sound like being swarmed by hornets, and while she didn't find them distracting while shooting, I can't imagine myself not turning into a toddler with bubbles.