Yesterday, in response to the current situation in Russia/Crimea, the President issued an executive order and everyone freaked out. They freaked out because a casual reading of the executive order would make it seem like the President banned the import of any guns/ammo made in Russia…except he totally didn't do that. Politico has a reasonable article about the EO which has this important bit of text:
Monday's order authorizes Treasury Secretary Jack Lew to work with Secretary of State John Kerry to impose asset freezes and travel restrictions on "any individual or entity that operates in the Russian arms industry, and any designated individual or entity that acts on behalf of, or that provides material or other support to, any senior Russian government official," the White House said in a statement.
That's important, because it means they're not going after companies like Wolf and TulAmmo that sell and important ammo in x39 calibers (5.45×39, 7.62×39), so for the time being at least those rounds will still be generally available in their classic, steel-cased cheap form.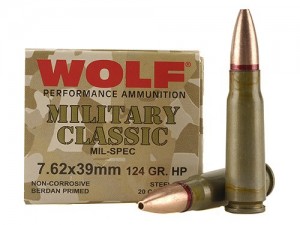 Of course, no amount of reason can stop the gunternet from losing their collective minds, so what we should all do right now is panic buy all the 7.62 Russian we can find, regardless of whether it's made in Bulgaria or Russia or somewhere else. That's not to say that the current situation in Crimea couldn't have ripples in the US market, because some Wolf ammo is made in the Ukraine, and obviously the Tula factory is in Russia. An actual shooting war between those two nations would likely affect the US market, because domestic production would likely get diverted to the actual war effort.
However, as far as the President banning import of new ammo? Didn't happen, and everyone needs to calm down. I'm tired of having to defend this administration because people are too busy getting hysterical instead of doing a little research. I'm not even saying that Obama doesn't want to ban ammo imports or that he won't in the future, I'm just saying that right now, this time, he didn't.