In a great post at Modern Service Weapons, Hilton talks about his path away from the 1911.
It is easy to get caught up in the mystique and history of the 1911, but the design is over 100 years old, and we have learned a few things about designing and manufacturing since then.
…
However, if training, shooting, and performance is your primary goal and you lack the resources, time, patience, or knowledge to keep after a 1911, then be realistic and choose something more modern.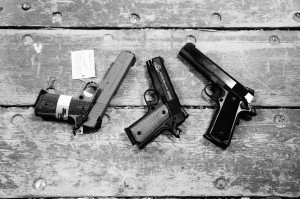 It's interesting whenever people discuss topics like this, because it reminds me that no matter how seriously we take our training, whether it be for competition or self-defense, that we sometimes forget that "fun" is an important part of it. If you're burned out on 1911s, you're quite likely to view shooting them as a chore, and make excuses to not go to the range and train. I've felt that way, where shooting was a chore and not something I enjoyed. A big part of what's gotten me revitalized in shooting is shooting guns I find interesting, like revolvers. I'm much more likely to hit the range and train with a six-gun than I am with another disposable flat-black people-popper semi-auto.
Passion isn't everything. But it is important, and it's most important when you're trying to avoid critical burnout. Remember that even when we're training for blood or money, if you can't look at an afternoon shooting guns as a good day, you might be doing something wrong. It's not always easy for me to remember that, so don't feel bad if you don't always either. Train hard, and take your training seriously. But don't let it burn you out because it's not any fun, either.