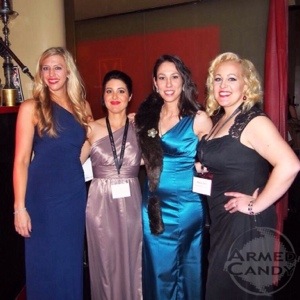 At this year's SHOTShow the Second Annual Women's Outdoor & Shooting Industry Dinner was held. Put on by Britney Starr of Starr & Brodhill African Safaris and Jacquelyn Kelly of Armed in Heels, the event took place at V bar in the Venitian hotel. The theme was Old Hollywood Glamor and, as you can see, almost everyone ran with it! This year the gathering saw some new sponsors as well as a few familiar faces, including Laser Max and GunUp Magazine.
The venue change from 2013, made a significant difference since it allowed the event to become far larger and more formal. The change also seemed to positively embody the strength and class of the women invited. The guest list read like a who's who of shooters, writers, manufacturer's representatives and business owners, and over 200 were expected to attend. As each arrived she walked the red carpet, and was made to feel like a star. Women then mingled over gourmet cupcakes and cocktails. Just like last year, a raffle was held toward the end of he event but this year there was even more prizes to be won.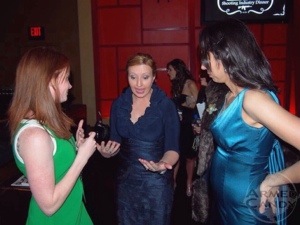 One interesting factor of the venue change was an unexpected collection of occurrences that no one could have expected to unfold. In 2013 the chosen bar was a corded off area in a larger space. This allowed uninvited guests to "hang around" which was both a positive and a negative. This year the event was more enclosed and with this change, some people may have felt left out. One notable issue was a fellow, near whome, I happened to be standing. The boyfriend of a certain sponsored female shooter just didn't want to leave her side. As a women-only, invite-only event, the gentleman was asked to leave and with only a small amount of commotion, he, and his entourage, departed.
All in all this industry event has become an important part of SHOTShow and is now a well established part of the week. I believe the organizers now have an opportunity to make the event more than just a social gathering. I would love to see them consider an educational or philanthropic component in years to come.
Photos:
Top image-(from left) Natalie Foster, Jacquelyn Kelley, Gabby Marcuus and Britney Starr
Bottom image-(from left) Shelley Rae, Julie Golob and Gabby Marcuus having a very intense discussion