Every year in February, the top IDPA shooters gather for one of the premiere IDPA matches in country, the Smith & Wesson Indoor Nationals. This is one of two annual national level matches put on by IDPA, and is very popular, very difficult to get in to, and one of the most fun IDPA matches to shoot. This year was no different. The match is held each year at the S&W Shooting Center in Springfield, and is one of the only IDPA matches to incorporate low and no-light stages. To win, you must be able to handle shooting, moving, and reloading with a flashlight in your hand.
I remember the 2012 match very well, it was a fun match, but I wouldn't call the shooting tough or technical. 2014 changed that dynamic up considerably, with some very tough shots and challenging stages. There were technical accuracy based stages, fast burn-'em-down stages, and of course the low light/no-light stages. Let's start our look at the 2014 Indoor Nationals with a look at the stages.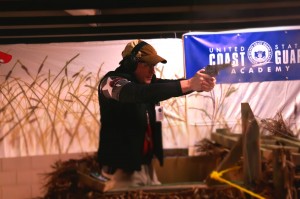 The Stages
The Indoor Nationals consisted of 13 stages, three of which were low-light. On all low-light stages, use of the flashlight is optional, at the 2014 match the lighting conditions on two of the stages made using the light your best choice for victory. The remaining 11 stages were a mix of the usual national-level IDPA stages.
Compared to previous matches, I would rank the difficult of the stages as a bit higher than in the past. There were some tough shots on moving targets, lots of partial targets, and some cleverly placed no-shoots that meant you really had to aim hard to avoid getting a bonus 5 seconds added to your time.
The Officiating
You cannot discuss an IDPA match without discussing the officiating; this was the first national match held under the new rulebook, with its changes to certain rules such as reloads and other things. Now, I can only comment on the officiating that I observed personally. I saw two procedurals given out during the course of the match, one was clearly deserved cover violation that even I would have called. The other was questionable, a shooter on my squad received a PE for not firing while retreating – it was the sort of call that could have gone either way.
Overall, this was to date the most evenly officiated match I've attended. I had the opportunity to test that, when I asked for a re-shoot due to a range-equipment malfunction on one of the low-light stages. I did get my re-shoot, and everything was handled totally professionally.
My Performance
I came into this match from the off-season; I had spent a little bit of time this winter dry firing, and my match prep focused almost entirely on working with the flashlight in low-light and no light situations. I had a new gun for the match, the new Ruger GP100 Match Champion. I'd fired it a bit in training, but hadn't worked it out under match conditions yet. Indoor Nationals was the first real test for this gun, and it passed with flying colors.
I'll start with the good news: my goal going into the match had been to win SSR Master, that I accomplished. My secondary goal was to finish in the top 3 overall, I missed that. So I went .500 on performance goals for this match. To break down my performance a little further, the top 3 shooters dropped an average of 79 points, I dropped 125 (that's a lot). My raw stage times were broadly the same as the 2nd and 3rd place shooters. 2nd through 4th were off the pace of Josh Lentz by about 2-3 seconds per stage.
The bright spot in my performance was the low light work. I won both of the low-light stages and generally shot pretty well when the lights were out. My training with the flashlight really paid off, and that was reflected in the scores. Also reflected in the scores was the rust I definitely need to shake off before I start hitting up other majors this year. Dropping 125 points when the other competitors in my division are dropping 80 is not good, and I had some issues during the match with mental focus as well.
I do want to take a moment before I wrap up and offer a shout-out to Ken Orbach, the 2nd overall finisher in SSR. Ken shot the match as an SSR-Expert, and he blew the doors off it. He finished 20 seconds off the overall winner's time, and beat two Masters and a DM to get to his 2nd overall. He was also fortunate enough that there were 10 shooters in SSR-Expert, so he's earned a much deserved promotion to SSR Master for future matches.
The Verdict
A tough match with interesting stages and good officiating is all a shooter can ever really hope for. We got that at the 2014 S&W Indoor Nationals. I'll be back in Springfield later this year for the 2nd Annual BUG Match, and of course I'll be shooting the Big Nationals later in Tulsa!