Of all the comments I made on my two recent revolver posts, the two have stirred up the most responses are my insistence that a proper fighting revolver be equipped with a laser and that a fighting revolver should be DAO. I'll deal with the laser in a later post, however I will say this: no one has ever presented to me a convincing reason to not have a laser on a defensive handgun.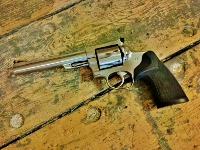 Now, on the DAO issue – I look at the SA function on a defensive revolver as some kind of evolutionary dead end. It's like wisdom teeth for your gun – you don't need them. We still have SA notches on defensive firearms because people don't want to learn to shoot a gun in DA mode, because that's hard or something. Let's take a look at some DAO revolver shooting.
Not a single time would I have benefited from shooting that gun single action. The same goes for every single other revolver match I've shot; even "hard" shots. Shooting it DA is better. That argument is what really gets under my skin – that the SA function on a DA revolver is for "harder" shots. I call BS on that. If you can't make the shot with the gun's DA trigger pull, you don't need to engage bitch-mode on your gun, you need to HTFU and get better at shooting you revolver in DA.
Single action does have a role however on some guns. It's great for teaching small children the fundamentals of marksmanship with a rimfire revolver. It's good on hunting guns too I guess, but if I'm going to shoot a large caliber revolver single action, I want to do it with a proper single action revolver, like a Ruger Blackhawk.
The crazy thing is that getting good at shooting your revolver in DA is one of those tasks that can be accomplished 99% in dry fire. A DA revolver is like a machine built for dry fire. Just dry fire the snot out of that thing until you can pull the trigger without disturbing the sights. As a bonus, you'll also develop forearm strength, which is useful for things such as "shaking hands like a man."
Don't let the vestigial evolutionary tail of single action hold you back. Lace up your boots like a big boy and learn to shoot your defensive revolvers better in double action.