There are better choices for concealed carry than a wheelgun. Semi-automatic pistols are easier to shoot, easier to reload, and easier to manipulate. I am a huge revolver fanboy, but I'm also honest with the fact that a round-gun is not going to be optimal for most people. But if you are going to build a defensive revolver for carry, then here are a few things you must have.
The Modern Defensive Revolver has to be a gun that you're going to actually carry, and is actually shootable enough that you'll train with it. So, for starters it can't be a flyweight micro-gun. The Ruger LCRs and S&W Airweights are great guns, but they're not in the niche of what we're looking for here because you're not going to take a 500 round class with a Scandium J-Frame. So the first criteria of a Modern Defensive Revolver is this:
It must be comfortable to shoot with defensive .38 Special ammo
The bottom end of guns that are comfortable to shoot with full house .38 +P loads are the all-steel small guns like the Ruger SP101 or the steel J-Frames such as a the 640 Pro Series.
The reason that we want an MDR to be a bit heavier than the airweight guns its because we're not viewing this gun as a backup; the modern defensive revolver is your primary carry gun. Because it's your primary, you should train and practice with it. That brings us to the next criteria for a Modern Defensive Revolver.
It must have good sights
The traditional revolver gutter rear sight with a black front post is fine for shooting paper on a well lit range, but it's not ideal for shooting smelly badguys in the face at 2am. The gun should have some kind of illuminated sights; while night sights are the best choice, I'd be willing to accept fiber optic or gold bead sights as well. Something that allows you to have a shot (ha) at target acquisition in low-light. Which brings us to the third criteria.
It must have a laser
Defensive lasers on your wheelgun are a must. It's just that simple. It's an auxiliary sighting system that allows for precise shot placement in low-light or no light conditions and allows you to keep your eyes focused on the threat. Train with the "real" sights, but have the laser for when you need it. Every single revolver I own for social work has a set of Crimson Trace LaserGrips on it, because I know if I really need the gun it's probably not going to be on a sunny afternoon.
It must be DAO with a bobbed hammer
Single action has no place on a defensive revolver. Neither do hammer spurs, which catch on stuff and are generally bad things. I don't like them on any revolver, but they really shouldn't be on defensive revolvers.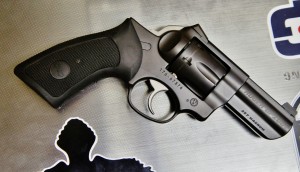 It must have a good trigger
Bad triggers are the bane of a defensive revolver. Heavy, gritty triggers are far too common on wheelguns, and a good defensive gun shouldn't have that. It should have a smooth trigger that doesn't stack or creep at the end of the break; ideally it should have an overtravel stop at the end as well. Weight is less of an issue than the smoothness of the trigger pull, but you should make an effort to keep the pull weight under 12 pounds.
It should not require moonclips to function
I like moonclip guns. They're great for competition, and great to shoot as well. They also create an additional potential failure point in the gun that you really don't want in a defensive revolver. I've seen moonclips tie up guns in pretty dramatic ways, and I even had a slightly bent moonclip cause a really poor trigger pull at a match once. I love moonclips, but for defensive guns it's speedloaders only.
The final criteria for the Modern Defensive Revolver is simple: It must be chambered in a caliber for which modern defensive ammo is available
I almost wrote this to say that .357 Magnum was the only acceptable chambering, but I relented primarily because of the existence of the excellent Winchester PDX ammo in .45 Colt. But really, if you can't get it done with a .357 Magnum, it's not the gun.
Do you think the Modern Defensive Revolver should have more criteria, or am I way off base with any of these?