On January 8, 2011 Gabby Giffords was shot in the head by a crazy person with a gun. Her recovery from such a traumatic injury was heroic and inspiring to anyone who has been victimized by crime and survived.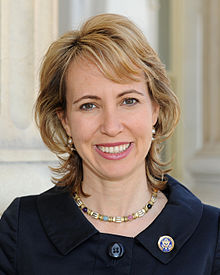 Two years later, Mrs. Giffords along with her husband founded Americans for Responsible Solutions, a PAC that advocates for further restrictions on the right to keep and bear arms. Just this week, Mrs. Giffords was in my former home state of Washington to lobby in favor of a sweeping universal background check bill that will deeply infringe the rights of the citizens of Washington, many of whom are my friends and family.
I have nothing but the utmost respect for the guts and toughness it must take to overcome being shot in the brain and moving on with your life. However, in her advocacy for more gun control, Mrs. Giffords has placed herself on a pedestal above criticism simply because she was a victim of a mass shooting. This attitude of saintly victims is nothing new to the gun control community – Colin Goddard, a victim of the VA Tech shooting was for a time a leading mouthpiece for the now floundering Brady Campaign.
Mrs. Giffords' status as a victim is central to her support of gun control. Even when not mentioned directly, which is done frequently, it exists behind everything she says. That subtle pressure that her opinions are beyond reproach because she's been shot by a mass shooter so she must be knowledgeable, she must be an authority. Because it's a very emotional argument, we frequently let it slide; because of her protected status as a sainted victim of violence, we don't call out her argument for what it is: emotion based nonsense.
If you remove what she's saying from the gun debate, it becomes this: "I was t-boned by a drunk driver, thus I am expert on drunk driving." Well, the truth is that you're probably not. What you are is motivated to curb drunk driving, because it hurt you. I'm not saying that it isn't possible for someone who was a victim of a mass shooting (or drunk driving) to become a legitimate expert on that topic. Anyone can learn, and anyone can become educated.
When someone relies on their victimhood, when their supporters use that victim status to shout down dissent and criticism, that's when we all know that you're not an expert. Gabby Giffords was shot. That is a tragedy, and I dearly wish her health and wellness for the remainder of her life. The man who shot her will spend the rest of his life in prison,a nd that's a good thing.
But don't pretend for a second that getting shot by a psychopath makes you an expert on the gun issue. Mrs. Giffords, it's time to stop. Your status as a victim does not grant you the right to infringe on the Constitutional rights of Americans everywhere.