Unless you have been in a cave the last couple of days, you've probably seen the link to this new ammo called RIP, which stands for Radically Invasive Projectile. They have been running a truly impressive (and annoying, but more on that later) marketing campaign, to the point that their ammo has damn near gone viral. I've seen links to it on forums, facebook, had people email me and message me, so I guess it's time to talk about the newest in trendy ammo. Let's begin then with their own marketing video and go from there.
If you can get past the incredibly cheesy voice-over, the video basically consists of them shooting the 9mm RIP projectile into a bunch of different mediums in various unscientific ways. While I deeply enjoy footage of stuff getting hit by bullets in slow-motion, if you're claiming that this is the "last round I'll ever need" I want to see some actual barrier tests. But conspicuous in their absence are those barrier tests. Yes, they show the round going through a cinderblock, but they don't show what happens in gel after that. They show some bare gel shots, but nothing that would involve defeating even a standard four layer denim test. Basically, the entire video is just wild claims and dudes shooting machine pistols. If that was all this video was about, I'd probably not be writing about it. But again, they're claiming that this bullet does something special. Now we'll take a look at that using science.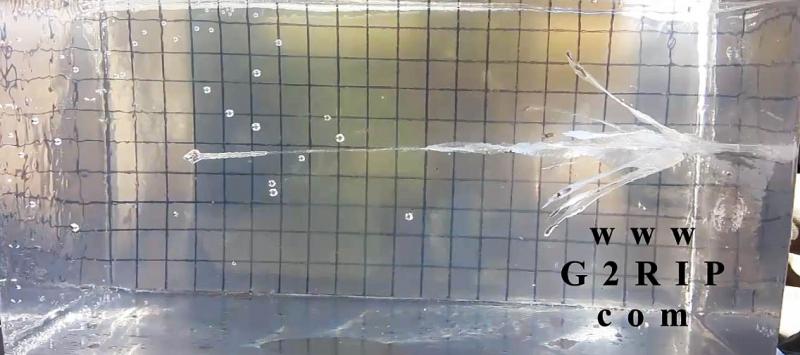 This is G2R's own image that shows the performance of the round when shot into bare gel. Here's what you're looking at: on the right, you have multiple permanent wound tracks from the trocar points that don't appear to penetrate much further than 5 inches. That's extremely shallow. You then have one single projectile, the base of the bullet which appears to act like an FMJ after the trocars separate and penetrate another 12-16 inches. It leaves a very small permanent wound track while doing this. Essentially, you have a round that combines all the negative performance aspects of an FMJ round (possible over-penetration, narrow wound track) with all the negative performance of a Glaser safety slug (nasty looking shallow wound channel, not a lot of real penetration). Don't let their high speed video fool you, either. Remember that temporary stretch cavities are not a significant wounding mechanism in handgun ballistics. Basically, just because their gel appears to bounce and flex doesn't mean that's actually going to cause any permanent tissue damage.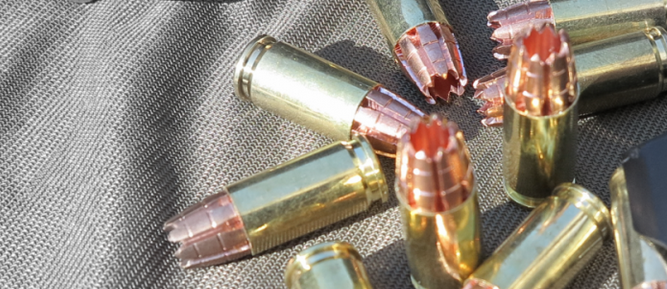 Finally, I want to address their marketing campaign. I must first doff my cap, because it's absolutely worked. As mentioned, I've seen a number of links to the new product all over Facebook, my inbox, and various forums. But how much of that is real traction? Many of the forum posts and links have been all the same, with the title a variation of "The new round that has gun owners drooling". First off, that's a bunch of horseshit, since most of us didn't know about your gimmick round until two days ago. Secondly, I know for a fact they've been sockpuppeting accounts on forums to get some of these posts, which is a shady maneuver as well. Lastly, the whole thing just reeks of SEO-optimized clown shoe mall-ninja fantasy nonsense.
Here's the Gun Nuts Verdict on the G2R 9mm R.I.P. (Rapidly Invasive Projectile): It's an overpriced gimmick round that doesn't anything that can't be done better with something else. Don't waste your time and money with this nonsense. If you want deep penetration, shoot FMJ. If you want a massive, ugly, shallow wound use a Glaser. If you want a round designed to actually stop fights, use Winchester Ranger, or Federal HST, or Speer Gold Dots.