Before SHOT Show, I finally got the chance to take my Ruger Scout Rifle to the range and do some shooting. Not much, but enough to get a feel for the gun. The rifle is currently set up with the bipod and a Trijicon RMR as the optic. With the RMR, hits on a man-sized target out to 100 yards are easy, although I will need to get the rifle out and sight it in a bit better. I didn't feel like doing a proper sighting session in four inches of snow.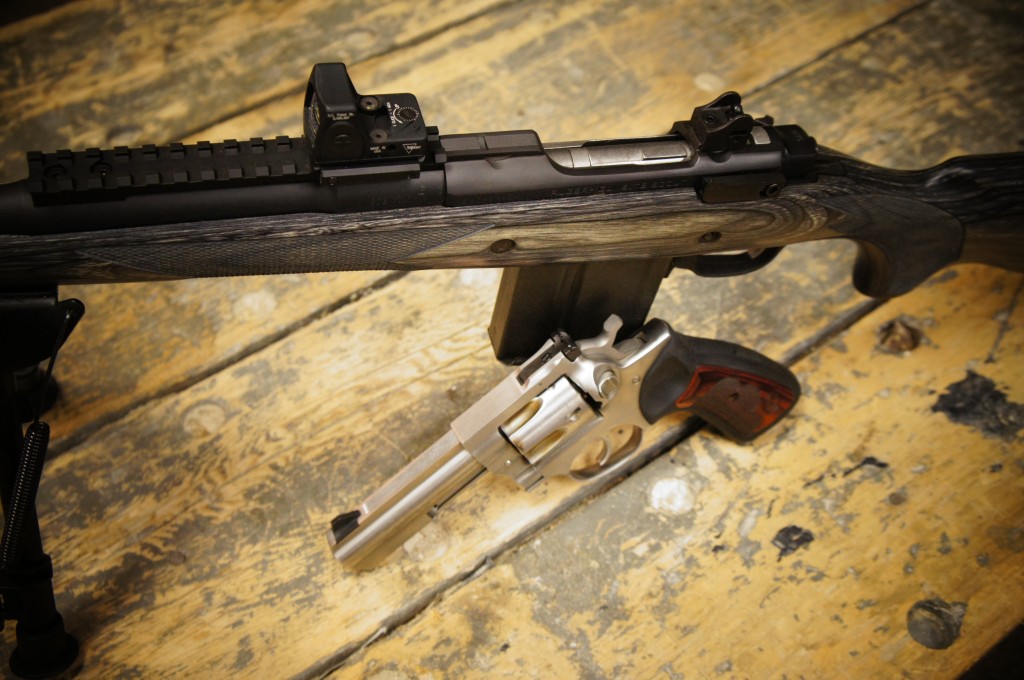 What I like
Felt recoil was minimal. The gun has a huge recoil pad which does a great job of soaking up .308 recoil, and it's also kind of heavy – over 8 pounds when loaded. It's not like shooting a 5 pound super lightweight .308 that beats you up, the gun is built in typical Ruger fashion to be tough.
I like the trigger as well. I am not a "rifle person" so I don't complain about this or that feature when it comes to rifle triggers, I just want it to be light enough that I'm not going to struggle when I pull it. I don't with the Ruger Scout Rifle, and the trigger breaks clean enough that I have no one to blame for misses other than me.
What I don't like
Did I mention that it's heavy? While I enjoy the pleasant recoil from shooting an 8 pound .308, I don't think I'd want to carry this thing around for 8 or 9 hours without a really good sling. The magazines are marginally annoying to load, and I do wish every time I pick it up that they'd used FAL mags instead of AI mags.
One operational note that's not a pro or a con – you cannot baby the bolt on this rifle and expect it to extract. It's not a $2,000 sniper rifle where you can gently tease the bolt back and cartridges will flop demurely into your hand like Marilyn Monroe on a plush sofa. You have to pull that bolt back with authority and let it know who's boss. Then it will send spent brass spinning merrily across the snow, to bury itself in white powder like Scarface's nose.
The Verdict
I still don't know what this gun is for, but I don't care. It's too heavy for an all day hunt, and for a DMR/home defense rifle I'd probably rather have Ruger's new SR-762. But I like it, rather a lot. There is something satisfying about a bolt gun in the same way that driving a car with a manual transmission is satisfying. It feels right to press a clutch and change gears, and in the same way it feels good to operate the bolt vigorously while shooting. When you drive a sporty car with a manual, you can't but help feel a little bit like a racecar driver. When you shoot a bolt gun rapidly, you feel like the ghost of Jeff Cooper is watching over you and smiling.