Every now and then when folks get to talking about pistol bullets and their terminal ballistics, someone will bring up an argument that goes like this: "Well I heard that BFE PD carries Round X in their guns, and they shot this guy in the head and the bullets didn't penetrate his skull."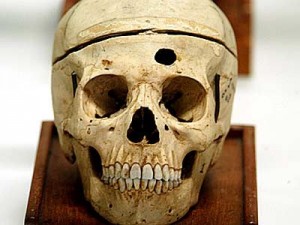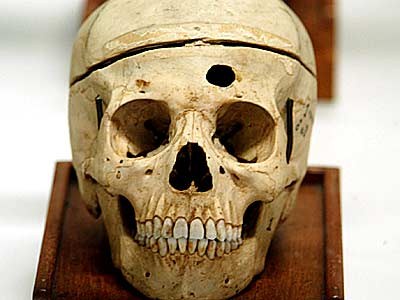 This will always elicit an eye roll from me, because as it turns out the human skull is a pretty robust structure. It's designed to protect the super-computer that keeps this show running, so it shouldn't be a surprise when it does what it's designed to do. Usually, when you hear about "failed" headshots on badguys, it's because of one of the following circumstances:
Poor ammo choice
Poor shooting angle
Usually, the "creasing" headshot only happens when the shot is taken at the hardest part of the skull – the frontal area above the eyebrows. That's one of the toughest bones in the body, the sloping shape of the frontal area can aid in causing projectiles to glance off the skull instead of hitting and sticking. I've read reports of just about every pistol round failing to penetrate the skull at one time or another: everything from .22 all the way to the "mighty" .45 ACP. I will say that I've never heard of a .44 Magnum failing to penetrate a human skull, but I can also say that I've not read too many coroner's reports where a .44 Magnum was the weapon of choice, either.
The point being is that using "round so and so" failed to smash through one of the toughest bones in the body is a flawed argument when you're talking about service caliber cartridges. Without knowing what type of ammo was used and the exact circumstances of the shooting, it's pointless speculation. Let's just accept the fact that the forehead and skull is a pretty tough bone, and sometimes under the right conditions it can even deflect bullets. Most major LET agencies know this, which is why they don't train for the "Hollywood" forehead shot, and instead teach that if you're taking a headshot, it should be in the magical T-zone.