While there is no doubt that modern hollow-point bullets are scientifically better at incapacitating badguys and that no modern service caliber is "better" than any other, I have a pet theory that most pistol cartridges that have legendary reputations as poor performers don't necessarily deserve that rep. The following theory doesn't really apply to mousegun rounds like .25 ACP or .32 ACP, by the way.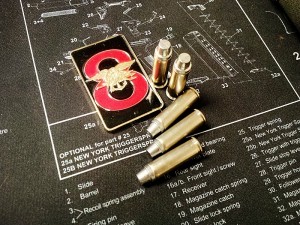 The Caleb Giddings Theory of Historical Stopping Power: Cartridges that have reputations as poor performers before the era of modern pistol-craft may not have been as bad as the legends would have you believe. Pistol marksmanship prior to the Modern Technique was mostly an afterthought, and guns of the era also had tiny, hard to use sights. For example, perhaps the 158 grain LRN .38 Special round wouldn't be known on the internet as The Widowmaker if officers of its era had better training.
Discuss in comments!