Whenever you start talking gun control with people, someone will invariably bring up "you have to have a license to drive a car" and suggest that we regulate guns in a similar manner. The problem is that no one actually thinks that analogy all the way through, because if they did no anti-gun person would ever support regulating guns the same way we regulate cars. Today we're going to do a little thought experiment and actually think this analogy all the way through.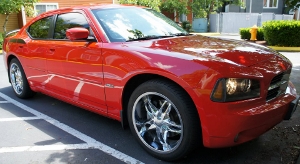 Let's examine the analogy completely, starting with gun ownership. Even at the sketchiest of pawn shops in America, here are the steps that I have to take to legally buy a handgun:
Be over 21
Fill out a 4473
Pass a federal background check (NICS)
Pay the shop
And that's just the process if you live in free America. Plenty of states have additional restrictions like waiting periods and state level background checks. For example in Washington, a state with pretty decent gun laws, unless you have a WA CPL you have to wait an additional 5 days from when you purchase a handgun to when you can actually take it home. This is so the state police can make double plus sure that you're not a badguy, despite having already passed a NICS check.
Now, here are the necessary steps you must take to buy a car:
Have enough money.
Mind you, we're not talking about driving the car, just like we're not talking about carrying the gun. To do nothing other than buy a handgun and take it home, I have to jump through several hoops. If I'm 16 and I want to buy a car, all I need is money.
Now you're probably thinking "Caleb, that's not a fair comparison, who would buy a car and not drive it? You have to look at driving the car to get a fair comparison." Alright, let's do that. Driving a car is reasonably analogous to carrying a concealed firearm. You're in a public space, and there is a burden of responsibility that comes with it. That's why the state requires you to have a driver's license and insurance to drive on their roads. Here's a comparison of driver's licenses and CCW permits:
Driver's License
Requires that new applicants pass a skill test that is so simple, 16 year old children are considered somewhat deficient if they can't pass it on their first try.
Once issued, can be renewed without having to retake the skills until the operator reaches dotage.
Allows the operator to drive quite legally in all 50 states, some foreign countries, on school property, etc without being questioned.
CCW Permit
Depending on where you live, may have no training requirement, will definitely require some kind of police background check, may require training of some type, but there is no sort of consistent state to state standard.
Is not good in all 50 states, and you may be arrested in some states where it is good due to ignorance of the law on the part of the officer.
Depending on the state, may require training each time it's renewed, may not require training, but there is no consistent state to state standard.
So you know what? Let's do it. Let's regulate guns like we regulate cars. I'd love to have a CCW permit with a training standard so easy a teenager is expected to pass it on his first try, I'd love for that permit to be valid in every state in the nation, no questions asked. Next time you're talking to an anti-gun person and this comes up, feel free to use the handy bullet points we've created. It may work better in states that have heavier regulations on gun ownership than others, so tailor appropriately to your area.