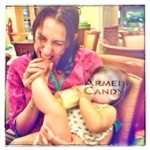 I'm not a parent, and I'm not sure if kids of my own are in my future. However, if my life continues on it's current path, it's likely that I will become a stepmom to a 16 year old teenage boy.
As a nanny, my specialty was always infants. Even so, I'm not especially concerned about the basics of step-mothering a teen age boy. Still, there is one area where I have some worries.
My gun collection is growing, and it's something of which I am very proud. My future stepson knows what I do for a living and as an avid reader, it's just a matter of time before he stumbles upon my writing. Unlike a small child, there is very little safety training I imagine accomplishing with this boy. It was especially worrisome when I heard him mention that his mother's husband had a number of guns in the house and that if he need to, he could just go get one.
This past weekend "the boy" stayed with my boyfriend and I for a few days. I decided to bring out the blue guns and play some room-clearing games. He's a big gamer so I figured he might get into it. And he did! And a great time was had by all. Unfortunately, it was quickly clear that "the boy" had no gun safety training. Trigger discipline was non-existent. I did my best to gently correct, but I'm worried. With teenagers, over correction can lead to the opposite intended outcome. (I know this because I used to be one.) So I'm not sure my point was heard.
At the same time, I had all of my guns in the house and after play time I took some out for cleaning. In this, "the boy" was not even remotely interested. It's ok, his father isn't either. Plus, I was the one who made my guns dirty, not them. I don't care that "my guys" aren't as into guns as me, but I'm still worried. When "the boy" says that he would borrow his stepdad's pistol in order to defend his pups against a neighborhood pitbull who keeps getting loose, I worry.