The title of this post is a quote from Teddy Roosevelt that I found earlier today and posted on my twitter page. While rolling the quote over in my head about a multitude of topics, I realize that in one area it applies directly to training, and specifically competition training, in the firearms community.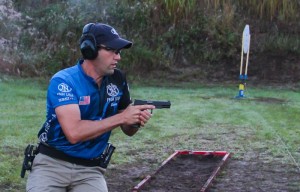 Here's an example: you're in the Bulk classes in USPSA, somewhere in between C and A where most of the shooters exist. You've been training hard, working in dry fire and you've made progress, which you can track because you're smart and you log your training. Then you go to a major match, an Area match and you get to see some of the top GMs shoot a stage. They shoot it in 1/3rd the time it takes you and they get way better hits.
There are two comparisons you can make when you see that. The first is positive: "Wow, those guys are good, if I keep at my training, take some classes and work really hard maybe I can be that good some day." If you do that, you're in good shape. However, the 2nd comparison is much easier to make, because most people's default setting is "Training? Why should I do that when I can play Battlefield 4 and eat Swiss Cake Rolls instead?" The second comparison is to see those top flight shooters shredding a stage and think "I'll never be that good, all my hard work is for nothing, I'm going to play Battlefield 4 and eat Swiss Cake Rolls instead."
Everyone at some point in an athletic pursuit will fall prey to the 2nd form of comparison. It's natural to get frustrated, it's natural to want to quit. Make no mistake: what defines you as a competitor is not the choice you make when you feel good about training, it's the choices you make when you're frustrated and don't feel like training. From the physical fitness world: "Anyone can go to the gym when they're in a good mood and got plenty of sleep. Few people can when they had a long day and work and are already tired."
The training doldrums are a tough place to get out of once you get in; for some people like myself the solution is simply to HTFU and go train. No excuses, just put in the work. For other people, you may need an external boost, like a coach or a trainer to drag you along kicking and screaming at times. Sadly, some people will never get out of the doldrums. They'll bounce from hobby to hobby, sport to sport and make great strides initially, and then get frustrated and go do something else.
I understand this post isn't for everyone. It's for people like me, people who are serious competitors and have experienced the comparison, the doldrums, and the frustration. Buck up. Train hard. It will get better. Keep logging your progress, so the next time the doldrums hit you can look back and say "I did get better, I just need to keep training."