It's crunch time folks. With just days until Christmas, I'm sure there are lots of guys who have put off shopping for their gun girls because they still haven't thought of the perfect gift. Well, I may have a few ideas for y'all, and one option is totally free! Happy stocking stuffing!
Membership to a local range is nice, but if you want to do something good for your state's natural resources as well as for your woman look into an outdoor resources permit. In Georgia you can buy a GORP for a year for less than $30. This gives you access to shooting ranges, hunting, fishing, camping, hiking and tons more! (Some activities may require extra licenses, but all can be found online, which means no running around in the craziest shopping time of the year.)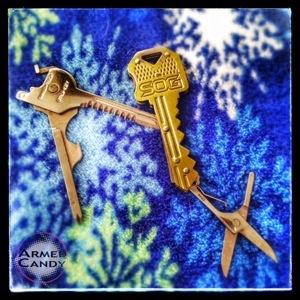 A multi-tool is handy, but most are too bulky and unnecessary for a lady to carry on a daily basis. For a long time I've carried a tiny "swiss-army" key which has served me well. It's so tiny and well-designed that even the TSA has never noticed it on my key ring. It has both a straight blade and a serrated one, with two screwdrivers and a bottle opener. I recently found another similar tool from SOG. It's a key with a tiny scissor inside. The scissor locks once extended, which makes it a bit easier to use. SOG did a good job and I now carry both tools, but the original will always be my first preference. Since they both fit neatly on her key ring, your lady won't have to chose between being elegant and prepared. (Can be found on Amazon and ship quickly because they are so small.)
Some people are very particular about their gun cleaning, but I've never met a woman who wouldn't let her man clean her guns for her. So break out a little construction paper and the crayons and write out a bunch of gun cleaning coupons for her. She'll be thrilled to hand over the job after a long day at the range, and what's the big deal? You were going to do yours anyway, right?!
Lastly, consider some magazine subscriptions. You know we love 'em… So we'll be as thrilled to receive the latest issue of GunUp as we are when our newest Marie Claire arrives! And the bonus is, you will want read them too!