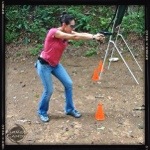 Last week, after one of my posts, I made a comment that started a conversation. The comment was something to the affect of, I'm not sure I could ever point a gun at something with a heart beat. Folks had all sorts of opinions about this statement, but no one offered me a solution that really worked for me. (Two good options that were: mental training and going hunting. To these responses I say, with all due respect, I doubt one could ever think through all the possible scenarios of a threat, and going hunting just isn't in my near future as I am too much of an animal person.) This conversation got me thinking and has lead to my desire to expand on the question, what would you really do?
Here's the thing; I'm lucky enough to have never been a victim of a violent crime. And with that fact comes the issue at hand… I don't know how I would react if the time came to chose between pulling the trigger and potentially shooting a human being, or not. I've never been in such a situation where so many factors are at play and my life is threatened, so how could I possibly know what I would do?
When I was told that I should decide what my reaction would be, prior to strapping on my ccw, I had a forehead slapping moment. Yes, I have made the decision to conceal carry, and yes, this means I am committed to the possibility that I could protect my life with the use of a gun, but does that mean I know how it will feel to aim at a live person and pull the trigger. We can practice drawing, aiming, even accelerating our heart rates, but there is no simulating a genuine fear response. So honestly, how do you know what you would do?