This morning, I went to get coffee, and I was most definitely in what the uber-tactical world would call "condition white." I was also just in condition white, quite literally. It's been snowing all night and on into the morning here in Sioux Falls, SD. Even after almost a year here in South Dakota I'm not used to how to deal with the different weather, and that includes keeping myself alert when snow is blowing directly into my face.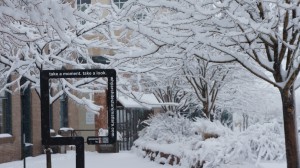 I was contemplating this as I walked back from the coffee shop this morning. Sure, I had a hot chai in one hand that, via the Caleb Giddings tactical method, could likely give me enough time to get a weapon out, but I still was uncomfortable. I couldn't see. With the wind rushing straight into my face I found myself either walking with my head down, staring at the ground a few feet in front of me, or blinking and twitching my head in an awkward fashion just so I could keep moving forward against the blustery wind without having snow flakes fly directly into my eyes. There was even an alley that I usually pay pretty close attention to that I couldn't even see into until I was already walking past it. I was incredibly uncomfortable, and I couldn't help but think that if I was a criminal, I would totally mug me right now. Hello blind, easy target.
I consider myself a somewhat pragmatic person. (I only give myself "somewhat," I still wear stilettos.) But I'm also not the kind of person who's going to don my ski goggles for a walk down to the coffee shop just so I can look for lurking bad guys. So how do I deal with not being able to see very well when South Dakota is South Dakotaing?
The best I have been able to come up with is that I need to keep my senses about me to the best of my ability when out and about, worrying about the cold and the snow isn't going to change its existence, and being able to see what's around me is essential to getting almost anywhere. I'm hoping that if I start here, start remembering that I need to pay attention to my surrounding regardless of what the blustering snowy wind is doing, then I can work forward. In the mean time, advice from cold weather folks on how to deal with paying attention to your surroundings when the weather is at its worst would be much appreciated.