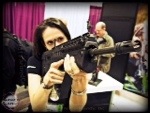 It's holiday party season again and earlier this week I played "arm candy" at my boyfriend's office gathering. He works at a large manufacturing plant deep in the north Georgia mountains, so it seemed likely that my New York City girl ways would fit right in. Well, maybe I should have had a back up plan, but I figured that if all else failed, I'd probably have firearms appreciation in common with this crowd.

I was surprised to find myself deep in a conversation with a small group about how I became interested in shooting. My surprise was due to the fact that the group to whom I was speaking was a very mixed bag. Among them was a woman who claimed to have daughters who are "very good shots," as well as a lady who said the one and only time she was taken to the range she "hit the deck" at the sound of the first shot.
Speaking to these women, I expressed the joys I have discovered through shooting. I stressed how many quality women I've met through this hobby, as well as how many women I've seen become empowered through a visit to the range. I went on to tell the nervous lady that next time she should try an outdoor range and extra ear protection. I was glad to see how receptive she was. My boyfriend also interjected how firearms and shooting had played a role in our meeting and how a little range time together has benefitted our relationship. (The only reaction that still disappoints me is when guys at my boyfriend's office warn him that if he screws up, I may use a firearm to seek vengeance. As always I feel the need to emphasize that I am not a violent girl and I am not sure I could point a gun at anything with a heartbeat.)
Overall, it was a warm, welcoming experience and I was proud to be on the arm of a man whom I love and admire. I was also excited by the possibility that I'd turned a woman's mind around and that she might just give shooting another chance.