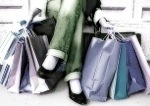 A few weeks ago, I heard an instructor advise a begining shooting class that if they wished to conduct a private sale with a person they didn't know, they should meet that person at an FFL holding facility and have the gun transferred to that person by use of a 4473.
This surprised me, because as a Georgia resident such measures are not required when conducting a private sale. Going a little further back I recollect a conversation with a girl friend, about the two private sales I have previously conducted. She asked if I had been nervous that I might be buying a gun that had been used in a crime or was selling my gun to a criminal. For both instances I replied, no. However, thinking about her questions and the instructor's advice made me wonder, are private sales really safe? And could we make them safer?
The best thing to have when packing heat, is the element of surprise. However, if everyone is aware that one is strapped, they can take equivalent precautions. Sure, carrying a wad of cash to meet a stranger about a gun, even if you're prepared, carries some risk, but that's why the whole interaction is planned smartly. Regardless of planning, meeting to conduct the sale at a gun store is probably still the safest option because a criminal isn't likely to show up to undergo a check. And yet, so far, I haven't opted for this method. Have you?
To her other point, my friend's questions carried the concern of not knowing into whose hands I was selling my gun. Yes, this person could have criminal intentions, but according to Georgia law, I am not required to make this assessment. I can ask to see their carry permit if I want, but gun owners are not required to have one in this state. Further, until a year ago, our pictures were not on these permits, so who is to say that the person standing in front of me is the one named on the permit? All these concerns could be avoided by heading the advice of the instructor, but would you ask for a 4473 for a private sale of a gun?