Last night, I was watching The Pacific on my iPad. For those not aware, it's a sort of follow-up to Band of Brothers that focuses on the Pacific theatre of World War 2 and the various island hopping campaigns of the 1st Marine Division. If you haven't seen it, it's worth watching, but it's definitely not as good as Band of Brothers. So don't get your hopes too high. But, back to the point. In episode for, young Eugene Sledge receives a care package from his father that includes a S&W revolver, apparently chambered in .45 of some sort. One of his friends says something to the extent of "don't ever trade that, because a hit from a .45 will put a Jap down faster than a whole clip from your [M1] Carbine. Hit him in the hand and it'll take his whole arm off."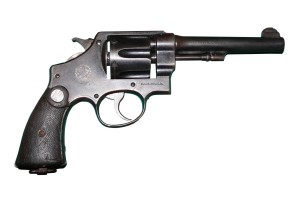 It's supposed to be a meaningful scene where an experienced combat solider explains to the green recruit "how things really are", but I couldn't help but laugh at the lines about stopping power. The gun given to Sledge is quite likely a Model 1917 S&W, which was chambered in .45 ACP and used half-moon clips to retain the rounds. It's a great design, and one that served as a substitute standard for 1911s in both World Wars. But, we all know very well that no .45 ACP on earth will take a man's arm off, and while that can be ascribed to hyperbole what's far more interesting to me is the statement about the .30 Carbine round.
For years, the .30 Carbine has endured a somewhat checkered reputation. It seems that in World War 2, there were exactly two mindsets about the M1 Carbine: people either loved the light, handy little rifle or they absolutely hated it. The later Korean conflict would spawn rumors about the .30 Carbine not having sufficient stopping power, which was likely a result of using an FMJ projectile at a relatively low velocity. That would produce a very small wound channel, not like a modern .223 round or the .30'06 rifles of the day. But was the M1 really all that bad? The answer, as it is to many things is "maybe." Like many ideas, it was a compromise.
20 years later, the military would get the rifle they didn't know they wanted when they spec'd out the M1 Carbine; it happened to be the M16 and it has become our longest serving military rifle ever. As it turns out, the problem with the M1 was its ammo. When the "rules" of war restrict you to FMJ or non-expanding bullets, the M1 Carbine is like a really big .32 caliber pistol. Today, with modern JHP and softpoint ammo, an M1 could easily fill a niche as a home defense rifle.