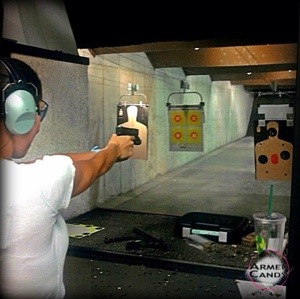 Have you ever dreamt of your ideal gun range? If you could design it in anyway you desired, what would you do? I have embarked on just such an endeavor and I wanted share a few of my ideas and hear your thoughts as well. The building will house both gun sales and indoor shooting range facilities and have a comfy family environment. However, this is where the stipulations end. Now it is up to us to build the most awesome complex ever.
Elbow room – I love the comradery that happens at the range. Some of my most memorable shooting moments have happened when I befriended a lane neighbor with an interesting gun. Still, tight lane spacing can make shooting uncomfortable and unrealistic, it can also create dangerous situations. How much space is enough but not wasted? And to that end, would you frequent a range that did not have bullet proof dividers between lanes?
Simulators – how often would you use such a device, if you were given access? If they cost more than range time or were only used as part of a class, would you still want range space occupied by this equipment?
Ratios – Shopping vs shooting, to which would you allocate more space? I'm experienced the draw of "oogling" when at the range, but when you shoot regularly, how often do you peruse the merchandise at the same time?
Of corse their are many other factors involved, and I hope we can discuss them below.