Using a one power optic on your AR15 has become the official hotness for serious HSLD broperators everywhere. Most shooters seem to gravitate towards the Aimpoint optics for their rifles, however there is another great option out there. I've been using a Trijicon RMR as a primary optic on AR15 and AK47 rifles for several years now, and have tested it in match conditions with great success.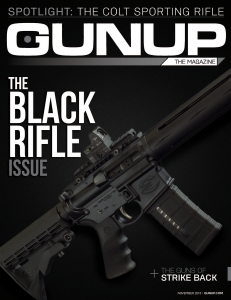 If you read the November issue of GunUp the Magazine, then you've seen the setup I'm currently running on my AR. Just one lonely RMR on the top of the rifle…and it's absolutely TOP. The current RMR design is rugged enough for serious field use, and has great battery life. On my AR I'm running the RMR02, which doesn't have manual brightness adjustments for the dot and uses a 6.5 MOA dot. I also have an RMR06 with adjustable brightness and the 3.25 MOA dot that I'm considering putting on my Ruger Scout Rifle as part of the optic test of magnified optic vs. non-magnified optic.
Now, with an RMR you're not going to be shooting sub-MOA groups at 100 yards off the bench. But if you need to hit an IPSC B/C target at 100 standing offhand, you absolutely can. It adds almost no weight to the gun, and has all the obvious benefits of a red dot optic. While it may not be for everyone, if you're looking for a rugged, effective 1 power optic for your rifle, think about the RMR. Right now I'd recommend the RMR01 or 02 models, and will be testing the 06 later next year on a .308.