SMYRNA, GA (November 2013) -With his placement at the 2012 and 2013 qualifier matches, GASTON J. GLOCK style LP sponsored shooter Dave Sevigny of the Sevigny Performance Team earned the #1 USA Team position for the International Practical Shooting Confederation (IPSC) World Shoot XVII. Sevigny will lead the USA Men's Standard Division Team at the triennial Level V IPSC World Championship October 12th through 19th, 2014 in Frostproof, Florida.
A points system taken from IPSC and United States Practical Shooting Association (USPSA) qualifier events finalized the four-person Team USA rosters for IPSC World Shoot XVII. The USA Men's Standard team consists of the three highest ranked USPSA members, plus one alternate member selected by USPSA Team Manager, John Amidon.
With more than 18,000 members, USPSA is the largest of 94 IPSC regions around the globe. Match organizers expect more than 1,000 worldwide entries among the four equipment divisions of competition at World Shoot XVII. Each division is home to different types of guns ranging from near stock pistols to heavily modified race-guns.
In 2012, Dave Sevigny won the IPSC Nationals and added two high-percentage runner-up finishes at the 2013 qualifier matches to secure first place in Standard Division Team points. "IPSC and USPSA are the two best leagues in practical shooting. It is an honor to represent the USA on the world stage again. There are a lot of great shooters who will be there," remarked Dave Sevigny.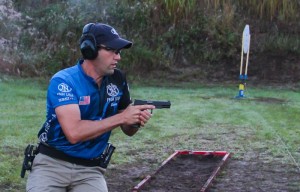 As an 11-time USPSA National Champion with over 200 major tournament wins, including an IPSC World Shoot win to his credit, Sevigny will be in solid contention to win IPSC World Shoot XVII and lead the USA Standard Division Team to the Gold medal.
GASTON J. GLOCK style LP shooter Brooke Sevigny earned a position for the USA Ladies Standard Division Team by placing well in the qualifier events in 2012 and 2013. IPSC World Shoot XVII will be Brooke's first appearance at an IPSC Level V Championship. In 2013, Brooke won several titles, including the USPSA Area 4 and Area 5 Ladies Championships in Limited Division, which is the USPSA equivalent of IPSC Standard Division.
"To be able to compete at the World Shoot is something I never dreamed of two years ago. I've learned a lot and plan to work hard in training with my husband in 2014," commented Brooke Sevigny.
"Over the past two years, the United States Practical Shooting Association has been holding qualifier matches to select teams to represent the USA in the IPSC World Shoot to be held in Frostproof, FL in 2014. Some of the best shooters in the world have made the teams; we have father and sons, husband and wives representing our country. Dave Sevigny and his wife Brooke, are among the 48 competitors selected by their skills and experience. Congratulations to all, you earned it," said John Amidon, VP of USPSA, Director NROI and WSXVII Team Manager.
GASTON J. GLOCK style LP is a large supporter of the shooting sports and is a major sponsor for the IPSC World Shoot XVII. Beate Arnold, CEO of GASTON J. GLOCK style LP, said "We are very excited to sponsor the IPSC World Shoot XVII in 2014 and for Dave and Brooke Sevigny to represent us there."
Visit http://www.facebook.com/GASTONGLOCKstyle to get the latest news on GASTON J. GLOCK style LP and their sponsored Sevigny Performance Team.
For more information on GASTON J. GLOCK style LP visit www.gastonglockstyle.com
To learn more about IPSC and USPSA shooting visit www.ipsc.org and www.uspsa.org