If you read yesterday's 2013 Shooting Season Recap, you know that 2013 was a somewhat frustrating season for me. On the gear front, the Colt CCG was (and still is) an amazing gun, but my performance left a bit to be desired in multiple matches. Big disappointments in Bianchi Cup and at IDPA Nationals left me feeling a little frustrated. Now that winter has officially set in for South Dakota, it's a good time to take some downtime from shooting, and look at what I want to do with my 2014 season.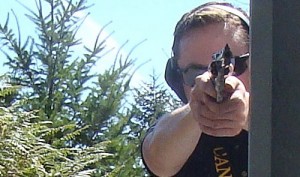 One of the big reasons this is important is because the off-season, which really runs from mid-November through mid-March is a perfect time to train up dry-fire skills. It's also a great time to work on strength and conditioning, because Always Be Bulking, Bro. But back to shooting, here's a look at major matches I plan on attending in 2014.
IDPA Indoor Nats
IDPA Nats
Bianchi Cup
NRA Action World Championship
There are always quite a few matches that I'm "maybe" about, such as Steel Challenge or the ProAm. I'd also really like to get qualified and get out to the ICORE Nationals in 2014, if for no other reason than to visit the central coast of California. Of course, a lot of that will depend on how busy things are with the company.
Now, with regards to off-season training, it would seem that if I want to move up the ladder in IDPA and actually win a national championship in SSR, I need to step my revolver game up across the board. Looking at scores from the 2013 IDPA Nationals, I finished with a raw time 33 seconds slower than the 1st Master and 43 seconds slower than the Division Champion. My accuracy is good for a Master class shooter, I only dropped 2 more points than the 1st Master, but it's not going to cut it to win DC, who dropped 30 points less than me. So if I want to win an IDPA National, I need to be faster and more accurate.
My goal for Bianchi Cup is to finish in the top 15 and shoot an 1800 or better. That means being more accurate. Trigger control, trigger control, trigger control, and a bit of sight alignment. I can work on that in dry-fire by just dry firing my wheelguns until my fingers fall off. It will probably help, and I can work in some range time as I've outlined in my Bianchi Cup training plan.
The IDPA goal will be tougher. There are a couple of ways I can pick up some extra time right off the bat, and the first eliminate gear issues. I had a persistent issue with my reloads where occasionally the speedloader would bind on the grip and thus the cartridges wouldn't insert fully. I know for a fact that cost me 3-5 seconds at Nationals. I also threw away a ton of points on the standards stage, which I should have shot a lot better, so there again is the accuracy issue.
Based on that, the best way to train in the off season for me looks like: tons of reloading drills, and tons of dry fire at reduced targets focusing on sight alignment and trigger control. It would seem that there really is no such thing as an "advanced shooting technique," just the basics executed quicker and with more accuracy than your opponent.