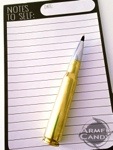 I often receive emails from gun people who feel alone in their experiences and want advice or reassurance. Having put myself out there as a consummate beginner for the last two-plus years, I usually hear about classes gone wrong or issues females have had, but every now and then I hear something different. A few months ago I wrote about my experience with Google Ads and how they refused to place ads on my site because ArmedCandy advocated the ownership of firearms.
I don't need to remind those reading this that the internet offers a level of anonymity that inspires many to speak their opinions more freely than they might otherwise. However, this doesn't only happen in public forums where commentators can cause mass hysteria. Business emails are just as likely to include the personal beliefs of the writer, even if those opinions mean damage to one's business.
A fellow gun owner sent me an interaction she had after posting an ad for some work to be done on her website. The ad asked for a web person who could link Paypal to a web store as well as some other small back-end tweeks. The responding designer was interested in doing business at first, but then found out that my friend's website sold gun holsters for women. This was the web designers response:
"I'm sorry, but I'm afraid that I was brought up to be against carrying firearms. I'm sure that another designer would be pleased to assist you."
I'm sorry, but I just don't see how this reasoning has anything to do with the work. While I respect the designer's right to run her business as she wants, I just don't respect such arbitrary discrimination. Has anyone else run into such silliness?