Here's a look at the revolvers I'll be shooting in 2014 for competition. I have different guns for different games, because each gun is set up for a different purpose.
Bianchi Cup
For Bianchi Cup, I'll be running a Ruger Security Six that's been worked over by Clark Custom Guns. The Six has a target action job, a bobbed hammer, and has had the single action notch removed from the gun as well. It's currently wearing a set of Pachy grips, but those will likely get changed out for Hogue wood stocks that are "custom enhanced" with skateboard tape for that extra classy effect.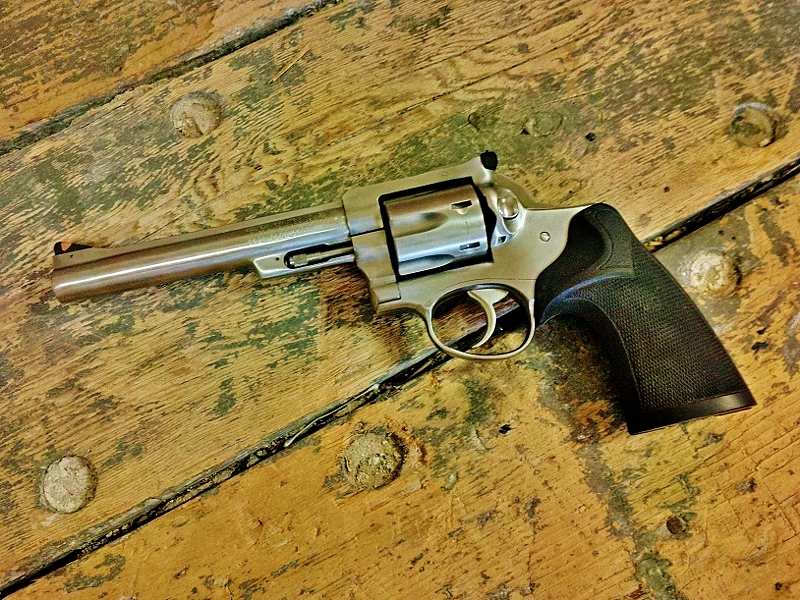 The Clark Security Six has also been cut for moonclips for ease of ammo management during the Cup, and also slightly more reliable ignition. The trigger is heavier than I'd probably like, but I did request that it be left heavy to guarantee reliable ignition. I have nightmares about getting a light hammer strike on the Barricades and I don't want that to happen with a six shooter.
IDPA
For IDPA, I'm going to keep using my trusty Ruger GP100. It probably needs a spring change, and I recently swapped out the lasergrips for some excellent checkered Altamont stocks. The Altamonts use the classic GP100 grip profile, which gives me more clearance for speedloaders. However, the Altamont grips are checkered both on the rubber and on the wood inserts, making the gun a lot grippier than the factory Ruger panels. I like this combo quite a bit. The GP100 is built like a tank and will hold up to another season of training pretty well. It's running around 10,000 rounds to date, so it might be time for some small parts to come and go in this gun.
USPSA
??????????????????????????????? In all seriousness, I have no idea what I'm going to shoot in USPSA, or if I'm going to shoot much USPSA this year. My schedule is pretty packed already, and it's not even December yet. Already on the calendar for next year are the IDPA Indoor Nationals, IDPA Nationals, NRA Action Pistol World Shoot, and Bianchi Cup. I'm going to try and pop down to Cali and shoot the West Coast Steel Championships, so I think for that I'd want a 7 or 8 shot gun, and Ruger doesn't make one. I could shoot it with my GP100 or one of the Security Sixes if I was feeling especially brave. Truth is, I've not thought much about USPSA in 2014. I suppose I could get a Redhawk for USPSA and have it cut for moonclips and shoot .44 Special like a sir.
ICORE
I have however thought about ICORE. I want to shoot Classic division, and I want to shoot it with my other Security Six which I'm in the process of tuning up right now.
2014 is going to be an excellent season. Later this week I'll also have a match recap of my 2013 season and look back on what I shot, how I shot, and how I'm going to train up for next season.