After our first look at the Ruger Gunsite Scout earlier this week, we've gone down the list of parts we need to add to the gun to make it optimal for what we have in mind. The big three items we need are glass, muzzle devices, and a sling. I've narrowed the field down to several contenders, and I'll be attempting to test these against each other next year.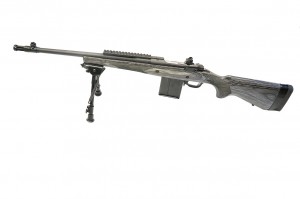 Muzzle devices
The flash hider on the gun looks a little silly, so it's going to be replaced with a proper muzzle brake. Right now, the two candidates leading the field are the Surefire .308 brake, and the AAC Blackout brake. Both of these have a pretty solid reputation for reducing recoil, although they will "deliver hate" to people standing next to you. They also have the ability to serve as mounts for suppressors, which is a neat additional benefit. I'm not saying that I want to put a can on the gun, but I'd like the option.
Slings
I like single point slings, but I can't mount one one this gun without doing some modifications. Which I may still do, so I can run an MS-3 on. However, I'm also looking at various Ching slings, and a neat little sling called the Rhodesian from Andy's Leather. The jury's still out on this one, because I don't run slings a lot during my usual run-and-gun nonsense.
Glass
This is where things get all sorts of interesting. I have four options that I'm considering. The first two are proper scout scopes from Leupold and Burris, respectively. I've requested some for T&E, and I'll be running them on the gun to see how they work. I'm also looking at non magnified optics, because I generally prefer red dots to magnified scopes for the sort of rifle work I have in mind. My standby optic is an RMR, which would look a little weird on this gun but would still work just fine, my other "non-magnified" choice would be to set an EoTech on it and see what happens.
So what do you think? Everyone has opinions on brakes, glass, and slings, so let me know what you'd put on this gun, or if I'm totally off my rocker for wanting a Scout rifle with a Surefire brake, single point sling and an EoTech.