Yesterday, I mailed my entry for the 2014 Bianchi Cup, which I'll be shooting in Metallic Division this year using a 6 inch revolver. This year, I actually want to spend some serious time training for the match, so I've already selected my match ammo, my gun, and I'm waiting on my holster. But I need a plan, a way to train for the match. The nice thing about training for the Cup is that the actual match doesn't involve movement or anything silly like that, just shooting. Lots and lots of shooting, so the training part is basically just that: shoot lots of bullets.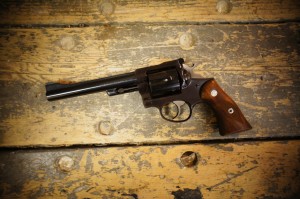 Champion Bianchi shooters recommend a lot of group therapy as a training plan. Shooting 2, 4, and 6 shot strings for group size and accuracy, both with and without par times are an excellent way to train for the match. Dry fire will be important to work on trigger control, since shooting a revolver means trigger management will actually matter quite a bit. Roughly, here's what the training plan looks like.
Monday: Dry fire, 30 minutes wall drill freestyle
Tuesday: Live fire, 192 rounds, shoot 2-4-6 groups, no par. Change targets every 24 rounds.
Wednesday: Dry fire, draw, switch to weak hand, six trigger pulls WHO. Trigger management! Use par time.
Thursday (winter): Live fire, 192 rounds, 2-4-6 groups with par. Thursday (nice weather): shoot simulated Practical and Barricades.
Friday: Mental toughness!
Saturday: Dry fire – going to the prone position. Or live fire if time/budget permits.
Sunday: rest
All of this is also supplemented by fitness, because working out is good and fun. The idea behind this plan if I stick to it is to tighten up the accuracy component of my shooting through shooting lots of bullets. 400 rounds a week is a lot, that's 1600 rounds a month and would put me on a pace to shoot 10,000 rounds in practice before the World Action Pistol championships. It's likely that I won't be able to perfectly stick with this training plan, since .38 isn't cheap, but even if I halved it and shot just 5,000 rounds before the WAPC in May I'd be in a much better training position than I was at this year's match.
This is going to be a really big year for Action Pistol, and I'm excited to start my training for the best match in the country.