Alternate post title: the dangers of working alongside a gun shop. I've wanted a Gunsite Scout Rifle since Ruger first launched them, but always balked a little bit at the asking price. That is until we had a used gun come through the shop at a price point I absolutely couldn't resist.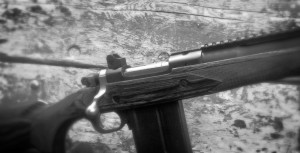 I actually have to blame Pete's posts at GunUp the Magazine about the budget scout gat. Then when this showed up, it was like destiny. Of course, now I need to get some glass for it, I'm torn between a zero magnification red dot and getting a proper long eye relief "scout" scope. I generally prefer red dots for work out to 200 yards.
I'll also need to get a good muzzle brake for the gun, which shouldn't be too hard because .308 brakes are pretty common these days thanks to the tactical community stepping their game up. Of course, the real question now is what to do with the thing, but I think I've already got that figured out: first, gun skool. Then, hunt stuff. The nice thing about a .308 is that I can kill basically anything that walks on legs in North America, provided I choose my bullets carefully. But I really do want to get some more mags and take this to a heavy carbine class or something along those lines, because learning how to run a bolt gun hard seems fun to me. Honestly, I should probably just go to Gunsite with and take their 270 Rifle class, because if there's one place to learn how to run a Scout rifle, it's Gunsite.
There will be periodic updates on the gun as I get glass, brakes, and other accessories for it, and then hopefully next year we'll start to do some shooting with it!