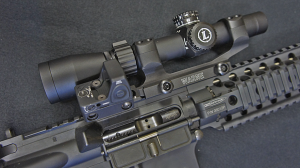 In a couple weeks I'm headed down to Florida to shoot the United States Carbine Association (USCA) Carbine Nationals. Since I've been off the bandwagon, so to speak, for the past couple months and have not been able to get much shooting in, I figured I had best start preparing for the competition.
I'm relatively unfamiliar with USCA and had to start by getting acquainted with their rules and deciding which division to shoot. After flipping through the rulebook, I put together a table to help myself understand what was going on each division.
MilLe
Irons
Heavy
TacOps
LimCap
Open

Rifle

Caliber
5.45×39+
5.45×39+
.308 or 7.62×39
5.45×39+
5.45×39+
5.45×39+
Action
Semi-Auto
Semi-Auto
Any
Semi-Auto
Semi-Auto
Semi-Auto
Sights
One fixed-magnification optic + one set of irons
One set of irons only
One glass optic (+ piggy back)
One glass optic (+piggy back)
One glass optics (+piggy back)
Unlimited
Sling
Every stage
Some stages
Some stages
Some stages
Some stages
Some stages
Capacity
30 rounds
30 rounds
20 rounds
30 rounds
10 rounds
60 rounds
Lasers
Visible & IR
Bolt Carrier
No low-mass
No low-mass
Muzzle Device
< 1.25″ diameter X 3″ long
< 1.25″ diameter X 3″ long
< 1.25″ diameter X 3″ long
Bi-Pod
No bipods
No bipods
No bipods

Pistol

Caliber
9mm+
9mm+
.44+
9mm+
9mm+
9mm+
Action
Semi-Auto
Semi-Auto
Any
Semi-Auto
Semi-Auto
Semi-Auto
Sights
Iron
Iron
Iron
Iron
Iron
Optic
Holster
Level II Retention
Max Mag Length
126mm
125mm
10 rounds
140.25mm
10 rounds
170.25mm
Slide Lightening
None
None
Lightening
Lightening
Lightening
Lightening
Barrel
None
None
None
Comps and Ports
Frame
Stippling/Grip Tape
None
For more information read the USCA rule book.
Currently, I have a plethora of M&Ps to choose from and my rifle fits into the "Open" category with two optics mounted on it. For the competition, I think I'll remove my red dot and run my AR with the Leupold Mark AR that's already mounted. For my pistol, I will probably just run my competition M&P.  This should put me in the TacOps division.
One of the nice things about USCA, is that they have their regulation target sizes (and distances) posted, so I can see what I will be expected to engage and different distances. This will make it easier to ensure that both my rifle and myself are effectively sighted in.
All in all, I am probably not doing as much preparation for this match as I should be. It's been a long time since I shot a 2-Gun match and it will be nice to get out and get some time with both my rifle and my handgun. I don't expect to place well, but as always, it should be a great time.
Look for my write up and photos from the match at GunUptheMagazine.com.
To find out more about the USCA Nationals, visit uscarbineassociation.com.